OptionNet Explorer is a one-stop-shop for developing options trading strategies. Over 11 million trades have already been backtested using the platform's extensive historical pricing data. Orders can also be submitted directly to online brokers. This review explains how OptionNet Explorer works, its key products and services, plus pricing, accounts and more. Find out if OneOption Explorer could help take your trading to the next level.
What Is OptionNet Explorer?
Launched in 2009, OptionNet Explorer is an advanced platform that helps investors build and test options strategies. The firm offers a powerful array of technical analysis tools and has a particular focus on managing risk.
The company essentially aims to provide traders with the tools and confidence they need to make the best investment decisions. Free historical intra-day pricing data is available as well as live and delayed data from online brokers.
The ONE Program is the main product, which we explore in detail below, however the company also has plans to build out its education and training centre.
ONE Software
ONE Software is the brand's native options platform.
This allows users to create, test and monitor trades and strategies.
Within the workspace, traders will see several sections. There is an 'underlying' area showing brief information on a chosen asset. This includes the day's open price, the highest and lowest price of the day so far and the implied volatility, amongst other information.
The 'open position' section allows investors to monitor open contracts. Open positions are displayed in the dropdown list so it is easy to switch between them. Traders are shown parameters such as the standard deviation in price movement since entry, margin and the time that the position has been open.
Clients can use the 'Option Chain' section to enter a new position. Traders will see call and put strike prices with expirations at given dates. There are five columns: 'mid', 'IV', 'Delta', 'Model' and 'Pos':
'Mid' is the middle price of the bid/ask spread
'IV' is the implied volatility
The 'Delta' column allows traders to choose a parameter from a dropdown list, for example, original price or traded volume
'Model' and 'Pos' are two indicators for the number of contracts bought or sold – positive numbers for buying and negative for selling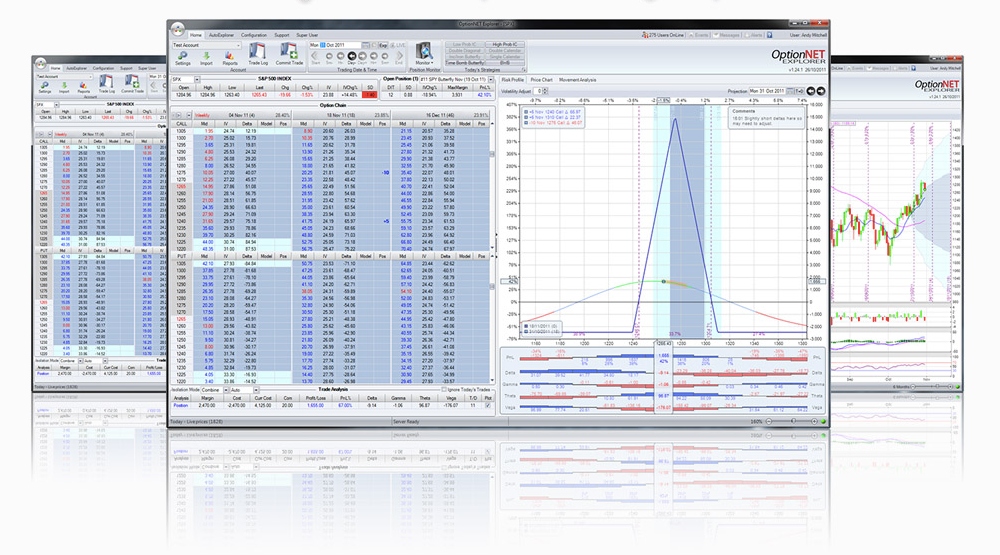 The analysis tools section allows customers to review their open positions by looking at risk profiles, price charts, movement analysis, volatility and statistics, plus fundamental factors.
The risk profile is one of the most important as this helps clients weigh up the risk vs reward of any open positions.
It is also possible to pick and choose which parameters you see on your risk profile chart to give you a clearer view.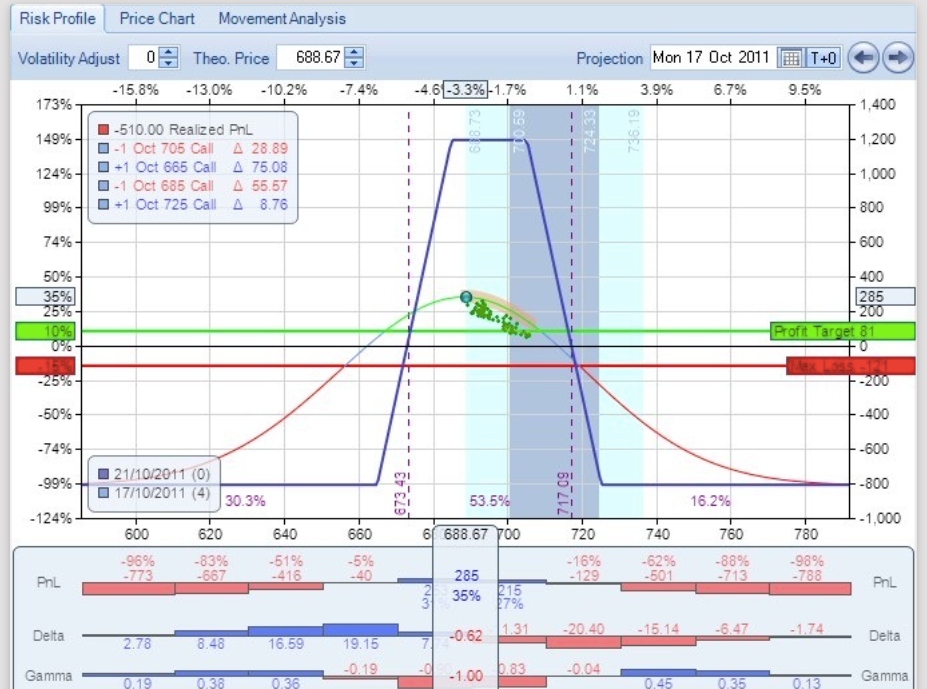 Finally, cumulative profit and loss figures are maintained because the ONE software tracks all adjustments and commissions throughout the life of a position.
Backtesting
Using OptionNet Explorer for backtesting is straightforward. On the trading platform, there is a date and time box at the top of the screen that goes back to 2010. Simply select the date you want to backtest and the asset that you want to use. You can then implement your strategy and review how accurate it is.
This is perfect for day traders looking to adopt a new short-term strategy or longer-term swing traders.
System Requirements
For the program to function, you need to be running Windows, with the following as a minimum:
2 GB RAM
.NET Framework 4
50 MB free hard drive disk space
Windows XP, 2003, Vista, 7, 8 or 10
400 MHz Intel Pentium II processor
If you have a Mac you will need to run a virtual Windows OS such as Parallels.
Demo Account
There is also a demo account where you can test strategies with simulated funds rather than real capital. This gives OptionNet Explorer's customers a risk-free way to see if a strategy works or not.
On the downside, access to the demo account is not free – only customers with a paid subscription can create a paper trading account.
Fees
The fee structure at OptionNet Explorer is uncomplicated. For a three-month subscription, the cost is £150. If you want to purchase an annual subscription, the price is £500. New customers can also pay £10 for a 10-day trial to test out the platform and determine if it is worth the money.
Note these prices do not include VAT.
Customer Support
To contact the OptionNet Explorer support team you can either email [email protected] or message the account on Twitter (@OptionNET).
There is also an integrated help suite where you can submit support tickets, consult the user guide, read the knowledge base or watch help videos. This is where you will find solutions to common problems and error messages.
Getting Started
New clients can get started with the OptionNet Explorer platform in several steps:
Log in to your account on the OptionNet Explorer website
Download either the Stable Version or the Beta Development version
Once the program has finished downloading and you have started running it, choose the type of account you wish to run from the top-left drop-down list. You can choose a live trading account, a ThinkOrSwim account or a demo account
You can import trade data from your brokerage account using the 'Import' button in the top-left of your screen
Now you can start monitoring your open positions and test new strategies
Pros Of OptionNet Explorer
Broker independent so you can use in connection with any trading brand
Beginners can provide account access to a trading mentor
Demo account available for risk-free trading practise
Backtest strategies using extensive historical data
Simple process to enter a new trade
Market data in 5-minute intervals
User-friendly terminal
Cons Of OptionNet Explorer
No mobile compatibility
US equities & indices only
Limited education section
No free trial to test out the platform
No live chat or phone line for the support team
OptionNet Explorer Verdict
OptionNet Explorer is a good option for traders looking to trial and refine new strategies. The intuitive design makes it easy to navigate and there is a wealth of comprehensive historical pricing data.
Clients can link directly to their live brokerage account through the terminal. The only drawback is the absence of a free demo account.
FAQ
Is there a demo account on OptionNet Explorer?
OptionNet Explorer does offer a demo account with simulated funds. However, it is only available to users with a paid subscription. If you want to use it, you must register an account, or pay £10 for a two-week trial.
How much does a subscription to OptionNet Explorer cost?
If you pay every quarter, the cost is £150 + VAT. If you commit to a full year's subscription, the cost is £500 + VAT, saving you £100. There is also a £10 10-day trial available on the website.
Can I trade with OptionNet Explorer on mobile or web browser?
You cannot access the OptionNet Explorer trading platform via a mobile or web browser.