A scalping trading strategy is fast-paced with traders aiming to make a large number of short-term profits throughout the day. If you're wondering how to start scalping, we've covered some key systems below to help you determine which scalping trading strategy could work for you.
What Is A Scalping Trading Strategy?
Scalping trading strategies generally use real-time technical analysis to make small and frequent profits, by skimming a few pips from each trade. Since trades are executed within just a few seconds to minutes, the ideal time frames for scalpers are typically 1-minute and 5-minutes.
A scalping trading strategy is best used when investing in currency, though it is also popular in futures, stocks, cryptos or even commodities such as gold. Scalping is possible using a manual or automated strategy. Manual scalping requires the trader to monitor the charts constantly, whereas automated methods utilise a program via Python, for example, that can track and carry out trades on your behalf.
Best Scalping Trading Strategies
We've provided 4 simple scalping trading strategies and advanced techniques that you can use below. Whether you're a beginner or expert, the best option will depend on your day trading style and goals.
Relative Strength Index (RSI) Strategy
Some scalping trading strategies use momentum within the market to identify the best entry and exit points.
The relative strength index (RSI) is an oscillator, meaning it can forecast the future direction of the asset over a period of time.
The RSI can be used to determine overextended prices; specifically, if the RSI is above 70, the market is overbought and if the RSI is below 30, the market is oversold.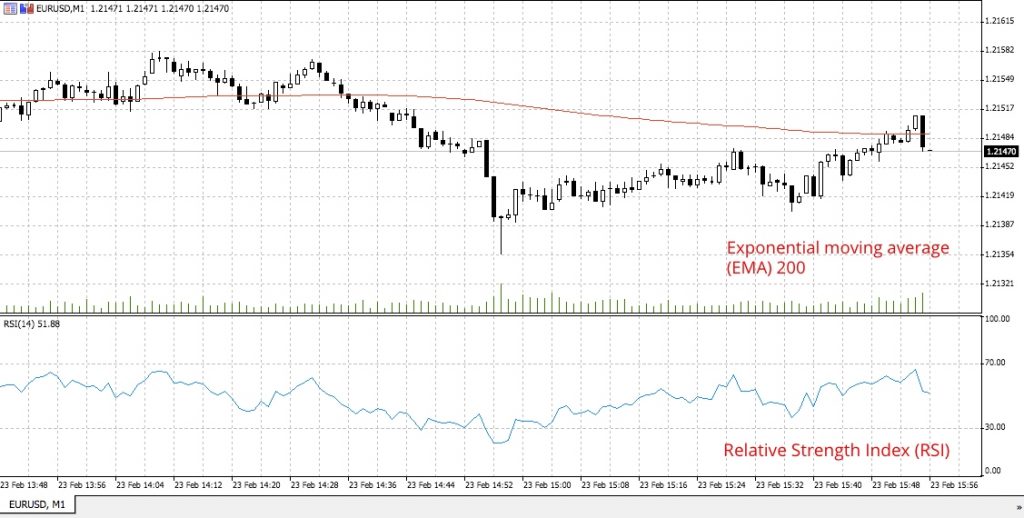 For a buy entry, wait for the price to rise above the 200-EMA, where the RSI should fall below 40 (but not below 25).Wait for the RSI to go back above 40 and enter at the candle close corresponding to when the RSI crosses above 40.Make sure to set your stop-loss (SL) at the swing low created by the bullish price increase and set take-profit (TP) at two times the risk on the SL.
For a sell entry, wait for the price to drop below the 200-EMA, where the RSI should rise above 60 (but not above 75).When the RSI drops back below 60, enter at the candle close corresponding to when the RSI crosses below 60.Set your SL at the swing high created by the bearish price thrust and your TP at two times the risk on the SL.
Volume & Price Action Strategy
This scalping trading strategy follows the theory that changes in volume are often followed by price action.
It is the study of price movement by looking largely at historical trends, rather than using a range of technical indicators and objects.
When volume is low, it may indicate a trend dying, reversing or stalling before picking up again. In general, low volume is usually followed by high volume and therefore short-term price action (hence the suitability for a scalping trading strategy).
Ideally, you will need to be patient when the market is sitting within a range. When the volume spikes alongside price action, aim to buy before prices go up. You should then sell once the prices are high.
Note that whilst this scalping trading strategy can be insightful, it might not always be accurate. Some traders will be tempted to rely on the volume without full confirmation of a bullish trend. Remember, it can be impossible to ascertain a full picture of volume because forex is a decentralised market.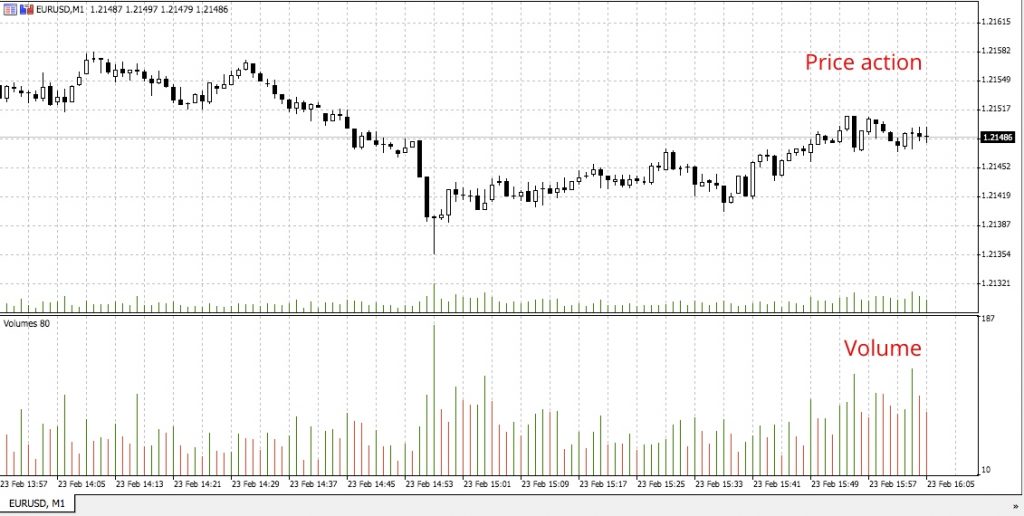 Moving Averages Strategy
Another common scalping trading strategy utilises two MAs, represented by support and resistance levels (S/R), along with two EMAs, consisting of a 7-period and a 14-period. These can help to identify long and short positions to take in the direction of the trend.
Set your 5-minute timeframe (M5) and your EMA-7 and EMA-14, applying both to close.
To enter a trade, you'll need to look out for a break in the S/R, which will be confirmed by the crossing of two MAs.
For a buy entry, the EMA-7 must close the EMA-14 from below and for a sell entry, the EMA-7 must close the EMA-14 from above. Place your stop loss behind the nearest local low on the chart for a buy and behind the nearest local high for a sell.
To lock in your profit, you should close your buy when the upwards momentum ends and EMA-7 crosses the EMA-14 from above. You should close your sell when the downwards momentum ends and EMA-7 crosses EMA-14 from below.
Due to their simplicity and efficiency, the use of moving averages is considered the best fast scalping forex trading strategy for beginners. In addition, the system is ideal for currency trading though it also works well with other assets.
Zigzag Strategy
The zigzag indicator in MT4 can be used to identify forex price trends by plotting any price reversals and connecting them with straight lines. This simple scalping trading strategy helps to eliminate market noise and smooth out price fluctuations to reveal underlying swing highs and swing lows.
The strategy works best in trending markets, making it a good choice for popular currency pairs on a 1-minute or 5-minute time frame.
The aim is to plot the points when the price reverses by a percentage greater than the specified level.
Follow our steps on how to day trade scalping forex with a zigzag indicator:
Choose your starting point and set your percentage price movement
Identify any swings that differ from the price movement and are greater than your pre-defined price movement
Draw a straight trendline from your starting point to the new point
Identify the next swing and draw the trendline; repeat
Many traders prefer to combine this scalping trading strategy with Elliott Wave analysis or even using RSI or Stochastics. Whilst this strategy might not be best for indicating a time for entry or exit into a trade, it's a good way for scalpers to confirm the direction of a trend.
Note that you will need to download the zigzag indicator from the MetaTrader Market where there are hundreds of other scalping indicators to browse as well.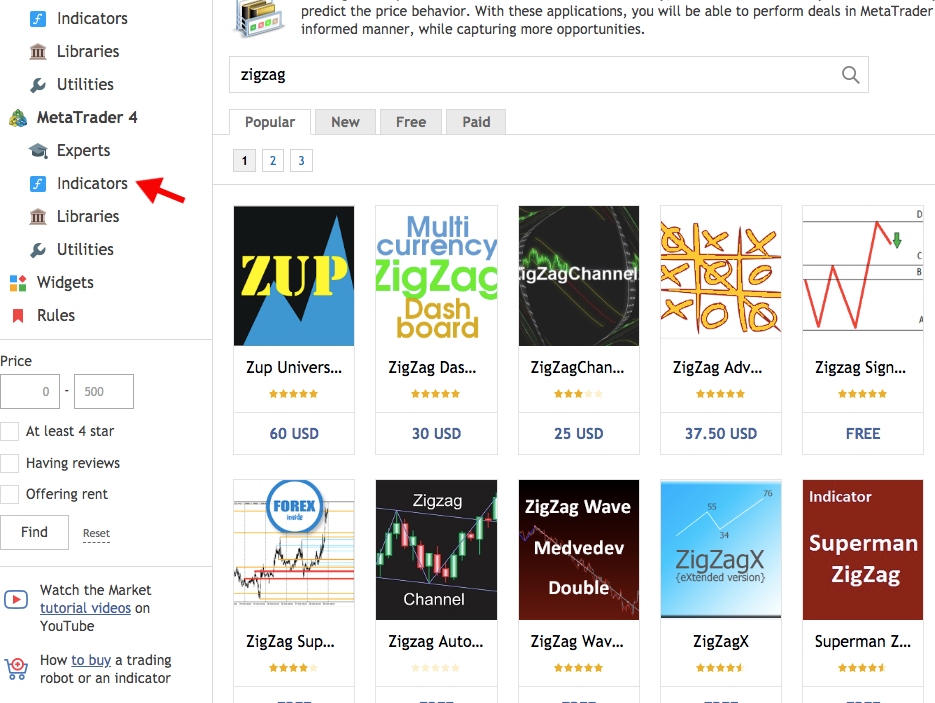 Final Word On Scalping Trading Strategies
The scalping trading strategy you choose may not be a quick decision and it will take some thorough research and practice to find the best fit. Alongside your hands-on practice in a demo account, always ensure you are utilising as many resources as possible for your research, from books to video guides and PDFs.
Note also that whilst there are many scalping trading strategies that work really well for others, they may not meet your needs.
FAQ
What Is A Scalping Trading Strategy?
The scalping trading strategy aims to profit from small and frequent price movements throughout the trading session.Traders typically utilise real-time technical analysis to monitor 1-minute or 5-minute charts.Scalping can also be done by manual or automated means, depending on the trader's preference.
Is using A Scalping Trading Strategy Profitable?
Scalping can be profitable for the experienced trader but note that volatility in the forex market can be unpredictable for anyone, especially when monitoring small price fluctuations.As scalping uses small timeframes, traders need to be able to act quickly on trades to secure a profit in good time.
Is Scalping A Good Trading Strategy?
Scalping is popular among experienced traders in particular, though it generally suits anyone who can monitor the market on a constant basis and can handle a high-pressure trading environment.
Beginners should be fully aware of the risks associated with scalping before committing.
What Is The Best Scalping Trading Strategy?
The best trading strategy for scalping is down to personal preference and the investment goals of the trader.If the 4 examples of popular scalping trading strategies above are not appealing, you could try searching for the top 5 or top 10 strategies online for more ideas.Some sources offer useful PDF downloads or video guides, for example.
Is A Scalping Strategy The Same As Day Trading?
The scalping trading strategy focuses on small price movements in large volumes.Day traders will hold on to trades for a larger profit target and might use the 50 pips a day strategy using a 1-hour chart, for example.You can find many resources online on how to find the best day trading or scalping strategy for you.
What Is Scalping In Options Trading?
Options are derivative trade contracts that give the buyer the right, but not the obligation, to buy or sell an underlying asset at a predetermined price and time.