DupliTrade is a copy trading platform that works with MT4 alongside partner brokers. Our review covers how DupliTrade brokers work, the login process, plus fees and strategy providers. Find out which brokers offer DupliTrade in 2023, as well as how to compare supporting brokerages.
Copy Trading Basics
When copy trading, users aim to generate profits by replicating the positions of experienced traders, known as providers. The positions executed by the provider are automatically or manually duplicated in the client's account, depending on the platform used.
Less knowledgeable traders can use copy trading to strengthen their portfolio, though there is still an element of risk as with all investment strategies.
How Does DupliTrade Work?
DupliTrade connects strategy providers with clients that have an account with one of their partner brokers. There are currently a dozen or so approved DupliTrade brokers and platforms.

After registering and receiving login details, clients can link their new copy trading account with their standard retail investing account, often through MetaTrader 4 (MT4).
Users can then pick the strategy providers they want to copy and decide on their preferred level of exposure before getting started.
manual or automated) and trading style (e.g. scalping or swing trading)
Users can also view provider performance statistics, such as maximum drawdown and average trade duration.
Overall, DupliTrade offers a convenient and transparent copy trading service with a focus on forex trading. While the platform does have a high minimum deposit requirement, its lack of monthly fees may appeal to some traders. However, it is important to carefully research and evaluate strategy providers before copying their trades.
Type of strategy (automated or semi-automated) and type (e.g. technical or trend follow)
Frequency and style (e.g. swing or trend)
Win percentage, leverage, and profit factor
Weeks traded and follower count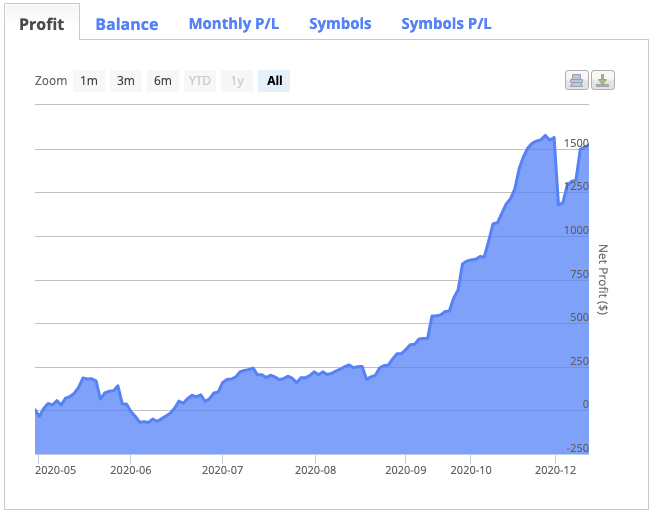 The technical trading statistics for each strategy provider are also available:
Full trading history plus balance and equity
Number of closed, winning and losing trades
Profit/trade ratio, average profit and losing trade
Gross profit and loss, maximum drawdown
Best and worst trades and average trade time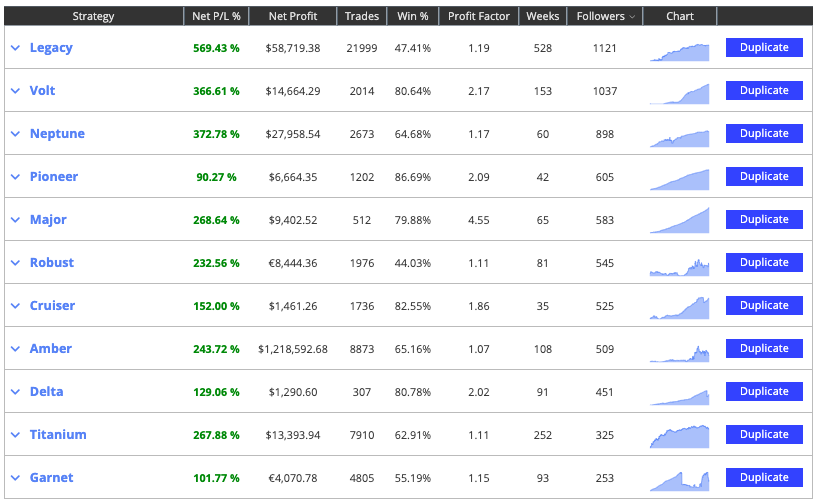 Simulator
The platform website offers a simulator that allows clients to test the past performance of strategy providers. Selecting a funding amount, time frame, and provider will generate an expansive report with statistics including monthly P/L and balance over time, total profit, and the best performing provider in the specified simulation.
This feature is available at most of the top brokers that offer DupliTrade.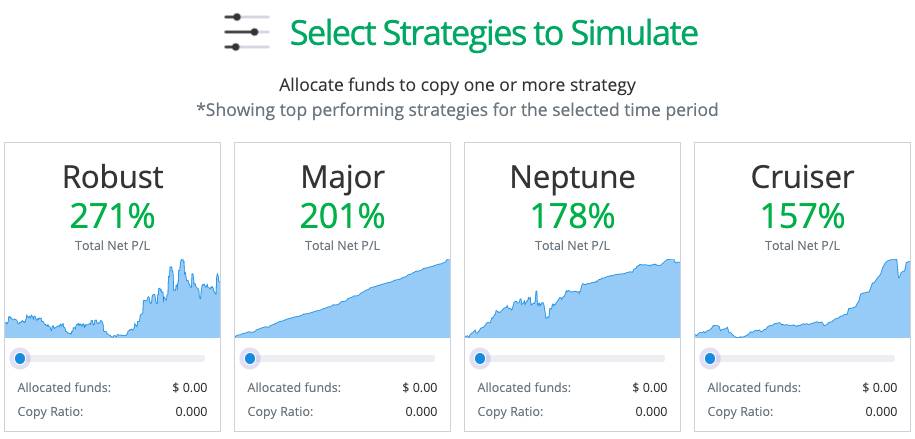 Demo Account
The company offers a free demo account for 30 days.
The account displays the outcome of each trade placed by all the strategy providers followed by the client, as executed by the professional's broker.
Users should note that in live accounts, the copied trades are executed by the client's broker and therefore accuracy cannot be assured by DupliTrade.
How To Compare DupliTrade Brokers
With several leading brokers that support DupliTrade, knowing where to open an account can be challenging. To help you make the decision, we have compiled a list of the key considerations:
Regulation – The top-rated DupliTrade brokers hold a license with a trusted regulator, such as the UK Financial Conduct Authority (FCA), the Cyprus Securities & Exchange Commission (CySEC), or the Australian Securities & Investments Commission (ASIC).
MT4 add-ons – The best DupliTrade brokers offer other plug-ins and add-ons to enhance the MetaTrader 4 experience. These can include MultiTerminal to manage other accounts simultaneously, an alarm manager for real-time alerts, or stealth orders to make anonymous trades.
Market access – While most strategy providers on DupliTrade focus on forex, are there other markets you would like to speculate on, for example, US technology stocks, European indices, or hard and soft commodities? Check the broker offers access to the instruments you wish to take positions on.
Customer support – The best DupliTrade brokers offer 24/7 or 24/5 customer support via live chat, phone, or social media channels.
Customer service representatives should be able to help with automated copy trading errors or point you in the direction of the team at DupliTrade.
Demo accounts – The top DupliTrade brokers offer a free demo account so you can trial the firm's tools and services before risking cash. You should be able to use this alongside the DupliTrade test account.
Pros Of DupliTrade Brokers
There are several advantages to copy trading with DupliTrade brokers:
Powerful simulator
CySEC regulation so no scam warning
Thorough auditing process for providers
Detailed profile with statistics for each provider
Over 10 leading brokers that support DupliTrade copy trading
Cons Of DupliTrade Brokers
Limited number of strategy providers
Predominantly forex markets
$5,000 minimum deposit
DupliTrade vs ZuluTrade
ZuluTrade is a copy and social trading platform. It is larger than DupliTrade, with a trade volume of over £1.2 trillion, more than one million users, and 1,000 strategy providers.
Traders are rated on maturity, exposure, and drawdown, but providers do not appear to undergo the same robust auditing process provided by DupliTrade.
The minimum deposit at ZuluTrade is broker-dependent so can be as low as $1, which makes it more accessible than DupliTrade's $5,000 requirement.
ZuluTrade also offers a wider range of features, including social charts which display market movement, plus trader comments and insights.
Cryptocurrency markets are also offered at ZuluTrade.
DupliTrade Verdict
DupliTrade is a CySEC-regulated copy trading platform that integrates with MT4 to duplicate the orders of your chosen strategy provider via a partner broker like AvaTrade.
Its providers undergo an in-depth auditing process and potential followers have access to a large volume of trading history data plus an advanced simulator. The only downsides are the high minimum deposit requirement and the focus on forex markets.
See our list of the best DupliTrade brokers to start copy trading.
FAQ
What Brokers Are Partnered With DupliTrade?
The company has around 12 broker partners that clients can choose from. They include major firms like AvaTrade and Pepperstone. Head to our full list of DupliTrade brokers to find the right provider for your financial goals.
What Is The Minimum Deposit At DupliTrade Brokers?
Clients must have a minimum deposit of $5000 or currency equivalent in their broker account.
This is fairly high and more than the requirement at other copy trading platforms, such as ZuluTrade.
Note, some DupliTrade brokers may have a lower minimum deposit to open a live account, but you will still need to meet the DupliTrade minimum to use the brand's copy trading service.
Is DupliTrade A Scam?
DupliTrade is a legitimate company with good reviews. It is regulated by the Cyprus Securities and Exchange Commission (CySEC), which closely monitors the activities of licensed firms. Many of the best DupliTrade brokers are also licensed by reputable financial agencies.
How Does DupliTrade Work?
DupliTrade works with your MT4 account to automatically copy the strategies of the providers you have chosen. Clients must have an account with a partner broker to use the service. We have reviewed the top DupliTrade brokers.
How Many Strategy Providers Are Available At DupliTrade Brokers?
The company has around a dozen strategy providers.