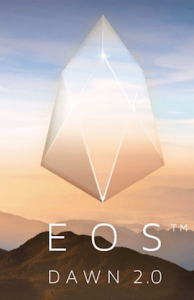 EOS is one of the most popular coins used in day trading. EOS is more than just a cryptocurrency – it allows developers to build decentralised blockchain applications in the public sphere. Its scalability and support for thousands of commercial applications have helped see the value and price of EOS tokens steadily rise.
This page will cover everything you need to know about trading EOS, including facts about its blockchain technology, mining, wallets, and more.
Chart
What is EOS?
Definition
The straightforward definition is that EOS is a decentralised operating system, based on blockchain, that aims to support commercial decentralised applications. It looks to offer core functionality, so businesses can build blockchain applications much like you can create web-based applications.
The overall objective is to be the most powerful infrastructure for decentralised applications.
EOS is, in fact, a direct competitor of Ethereum, who is currently considered the best application based protocol for building decentralised applications. However, EOS hopes to become a faster and more efficient version. Having said that, the EOS ICO actually supports Ethereum.
History
The company founder is Dan Larimer who is also the creator of Bitshares and Steem. Both cryptocurrency platforms are still active today. His proven track record has helped bolster EOS trading value and price.
EOS was introduced to the world at the Consensus 2017 with a peculiar ICO launch. Rather than the average two weeks, there was to be a year-long ICO and token dispensation period.
EOS Key Facts
Before you start day trading with EOS cryptocurrency, there are a few facts you should know:
The aim is to distribute up to one billion tokens.
Inflation, depending on community votes could be up to 5% per year.
The ownership model ensures there are no transaction costs and fees.
EOS cryptocurrency promises a fast platform that can process over 50,000 transactions per second.
The tokens can be staked to power the blockchain's bandwidth, computing power and storage abilities.
There is to be no mining of cryptocurrency coins. Instead, there will be producers, similar to Witnesses in Steem.
Despite numerous predictions and suggestions, EOS is not an officially defined acronym.
Its meaning in the trading world is still undetermined.
Remarkably, EOS has the capability to process millions of transactions per second through horizontal scaling. Bitcoin and other centralized competitors are nowhere near this level of performance.
During the 341-day token sale, 20% of EOS token supply was sold for approximately $185 million in Ethereum. Furthermore, the structure dictates that 70% of EOS currency will be sold at market value.
Benefits
There are three significant benefits to the EOS trading platform and system, which are detailed below.
1. Decentralized Operating System
Although briefly discussed earlier, it warrants further explanation. Developers need only possess EOS tokens to construct applications. Owning the coins grants access to server resources, which is how you can use the EOS blockchain. However, note that you don't need to expend the coins to use the infrastructure; you only need to demonstrate possession.
If you run a Data Acquisition and Processing Program (DAPP) on the EOS network, it can interact with other Dapps. However, a firewall is employed to safeguard the Dapps. The interactions actually allow users to navigate within the network, so you won't have to input any login information on the blockchain. In reality, as a result of the integrations, you may not even realize that you're using several Dapps.
2. Free Transaction Economy
One of the benefits of EOS when compared to Ethereum is that you do not incur the same fees.
On Ethereum, you must pay gas costs when you conduct a transaction. Whereas the EOS platform does not. This will make adoption easier and is partly fuelling current price predictions.
The rules and precautions allow for uninterrupted functionality, keeping harmful software at bay. Whilst at the same time also preventing network servers turning against it.
In addition, a parallel processing mechanism promises greater scalability and faster transaction speeds. This all helps result in EOS being among the fastest blockchains.
Understanding these technical benefits will help you better understand prices, patterns and volume on your intraday charts.
3.Minimal Inflation
Inflation usually comes with negative connotations, leading to a decrease in the value of money. However, inflation means trading growth for EOS.
Inflation is self-sufficient and can only reach 5%. This level is small enough that it can trigger economic growth as the ecosystem develops.
Day trading with EOS and knowing when to buy and sell will be far easier if you understand why these attributes perhaps give it an advantage over other cryptocurrency systems.
Drawbacks
Before you find a cryptocurrency wallet and start day trading on EOS, forums, blogs, critics and the news have all highlighted a couple of drawbacks.
1.Trust
Some users question the founder's previous success. As Tony Vays stated, "Dan Larimer has started several proof-of-stake based projects and they have all been shady in nature, both Bitshares and Steemit allowed insiders to create lots of tokens for themselves, and after that, the proof-of-stake nature of the project allowed those insiders to print tokens of value for themselves in perpetuity."
Developing consumer trust is important in the cryptocurrency world.
Negative news announcements can send prices plummeting.
2.Limited Technical Insight
In addition, Wayne Vaughn, founder and CEO of Tieron noted "The white paper does not go over any specifics and there is no code yet.So nobody can answer any specific technical questions." Having said that, he does later concede "This is a team of people who have come forward, and they're trying to build something that they think is innovative and that they want people to build new applications on top of."
Yet despite current lack of technical depth, the ambiguity may only help to send charts into overdrive and drum up sophisticated trading ideas and strategies to profit from this mysterious cryptocurrency.
EOS Price Predictions
Making an EOS price prediction for 2023 is obviously difficult, but it appears that EOS day trading is likely to increase in volume.Most people agree there are promising opportunities for Dapp-based blockchain companies to flourish.There is currently little to suggest EOS won't be one of those victors.
These forecasts make it an appealing proposition for both investors and day traders.Whilst prices could of course halt and then crash, the scalability of the platform and its current positive attributes seem to be attracting considerable attention.All of which is driving prices up.
In addition, the minimal IT infrastructure needs should help attract enterprise level clients.If the platform does attract these clients, there is a very strong chance the appreciation of tokens will be considerable.
What's Next for EOS?
Regardless of the long-term outlook and strange year-long ICO, misinformation, fear of missing out and publicity is all likely to be a catalyst for intraday trade.