eSignal is a comprehensive charting platform, featuring hundreds of technical indicators and analysis tools. The software is also an intuitive trading platform that integrates with 50+ global brokers. Our eSignal review will discuss how to use the tools and features, download compatibility, a comparison of account types and how to make the most of the data manager tool. We also compare eSignal features vs alternatives in the market including Lightspeed, Thinkorswim (TOS), IQFeed, Trendspider and MetaTrader.
What Is eSignal?
eSignal is a charting and trading platform that allows subscribers to trade with real-time data. Users can access up-to-the-second market data from hundreds of global markets. You can follow trends, set your strategy, and execute the best trades without missing a beat.
Importantly, you can connect to dozens of brokers and execute trades directly from within the platform. The current version, eSignal 12, is a downloadable Windows-based software package.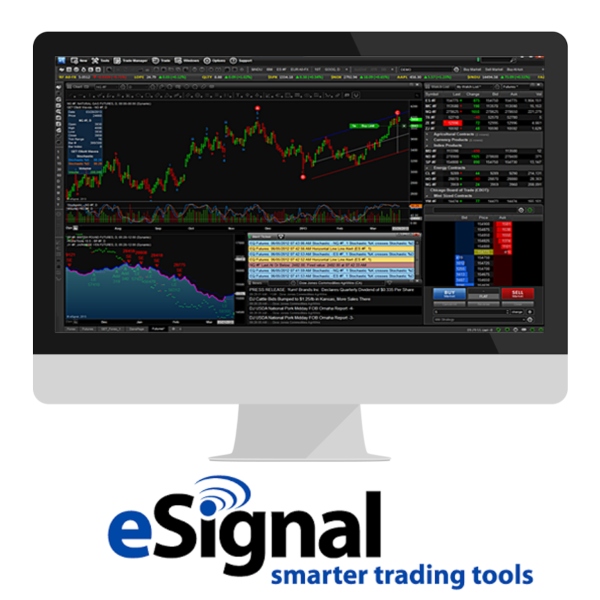 Developed by Intercontinental Exchange, also known as ICE, the software sits under the Interactive Data division.
The Interactive Data Corporation was acquired in 2015 for an estimated $5.2 billion. Their latest web version, version 12, was released in 2019.
eSignal Advanced GET and eSignal OnDemand are also recognized products of the company. It is now a globally recognized financial tool provider and has won various awards, including:
Best Real-Time Data Feed at the World Finance Awards
Best A.I Software at the T2W Member's Choice Awards
Best Forex Technical Analysis & Software Provider at the UK Forex Awards
Features
The eSignal functionality is vast and can feel overwhelming for new traders. Below are the key features of the program and software:
Charting
The charting features are fully customizable with flexible scaling, making it easier to interpret information. Charts can also be linked to multiple windows and come in different intervals, including tick (trades executed), relative volume (quantity of shares), and time, with the popular option being the 10-second replay chart. Importantly, data can be viewed in many formats such as candlesticks, bar charts, price breaks, and points and figures.
Technical Indicators
A full range of basic to advanced technical indicators are also available. Popular analysis tools include the Elliott Wave indicator, moving averages, and the squeeze indicator. The software stands out in this area.
Unlike other platforms that bunch up indicators, eSignal allows for resizing and moveable charts so you can save time as you observe market movements.
Market Screener Plus+
Find new trading opportunities instantly without having to search through thousands of individual stocks. The scanner screens global index symbols using set criteria. Screening benchmarks can be fully customizable or selected from a preset library. Lookup features include broad or narrow gap scanner, multi timeframe analysis and 50+ fundamental data fields.
Alerts
The eSignal platform can be configured with user-defined alerts based on price, pattern, metrics, and various other parameters. It is a useful feature, reducing the time required to monitor price movements. Alerts can be set on the Watch List, Option Chain, Hot Lists, Detailed Quotes, and Market Depth windows. Integrate a detailed view of the markets such as NASDAQ or NSE, for example, and receive real-time alerts when price data hits a pre-set threshold.
Account Types
eSignal provides three different service levels, also known as plans; Classic, Signature and Pro. As well as varying in price, each online account offers different tools and analysis functionality. A simple step-by-step user guide and installation details are provided on the website. This includes how to log in for the first time and setting a new username and password with the random generator.
Note, that eSignal is only available for download to PC devices.
Unfortunately, there is no webtrader option available. To use our services, you will need a Windows operating system (such as Windows 11), as our services are not compatible with MAC or Linux operating systems.
Below, we have outlined the features of each of our profiles:
Classic
Trading instruments available include stocks, futures, and forex. This profile is designed for more casual day traders who execute a few trades per month.
Email alerts
Free online education
Intraday data (15-minute delay)
Access to Master Screener Plus
Hundreds of technical indicators
View up to 500 symbols at a time
Advanced charting with customizable studies
Advanced drawing tools such as regression trend
Delayed snapshot data (excluding real-time streaming information)
Please note that this basic service has a time delay of 15 minutes.
Signature
This profile offers trading instruments including stocks, futures, forex, and options. It is our most popular subscription with all data provided in real-time. The profile is designed for more experienced investors who want to improve their skills and utilize the latest market reports.
Email alerts
Back-testing
Access to eSignal mobile
Real-time streaming data
Access to Master Screener Plus
Hundreds of technical indicators
View up to 500 symbols at a time
Intraday historical data available
Advanced charting with customizable studies
Free online education, news, commentary, and research
Advanced drawing tools such as Fibonacci tools and Pitchforks
Access to add-ons including MarketDepth, Market Profile, and Volume Delta
Elite
This profile offers trading instruments including stocks, futures, forex, and options.
This profile allows users to track the highest and the lowest stocks in several categories, chart projected earnings and perform their trades directly on the eSignal trading website.
Email alerts
Access to eSignal mobile
Real-time streaming data
Access to Master Screener Plus
View up to 500 symbols at a time
Download extended historical data
Trend analysis with four core AGET strategies
Back-testing and data download with Qlink or RTD
Free online education plus news, commentary and research
Hundreds of technical indicators and 20+ exclusive GET indicators
Advanced charting with customizable studies and advanced GET studies
Access to add-ons including MarketDepth, Market Profile and Volume Delta
Advanced drawing tools such as time and price squares, GANN boxes and MOB
Complete the online registration form on the service provider's website to open a new account. Registration requirements include personal details, plus expected trading volume to determine eSignal profile eligibility.
Note, that the product does not support cryptocurrency trading such as Bitcoin.
Demo Account
All eSignal accounts offer a 30-day risk-free demo account option. This is similar vs competitors such as NinjaTrader, TradingView, Thinkorswim, Trade Ideas, and TC2000.
Simply choose a plan and activate the free trial with a money-back guarantee. You will need to sign up for a specific eSignal plan before you can access the paper trading profile.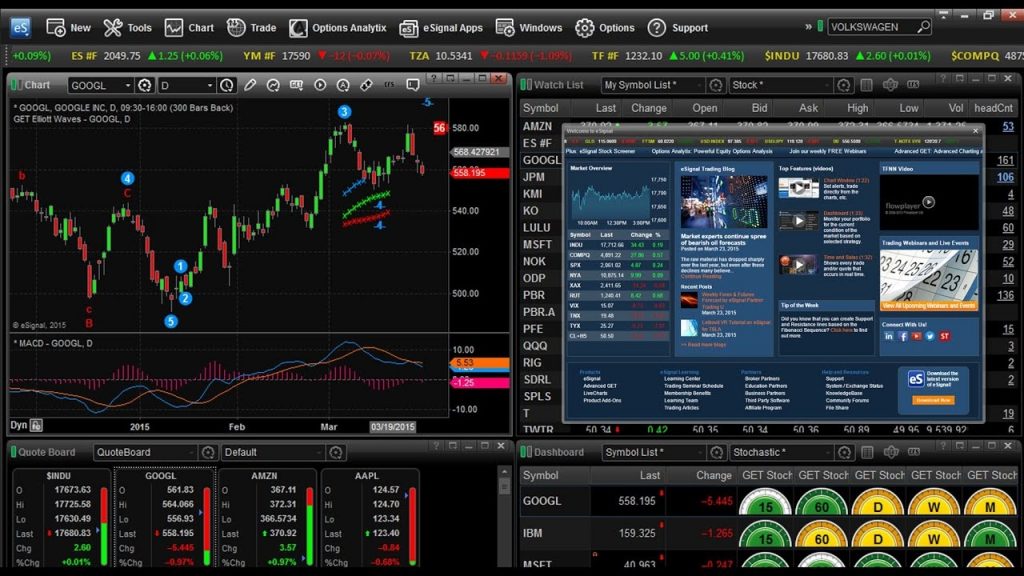 Utilize real-time market conditions including data feeds, live pricing quotes, customizable charts, add ons and alerts. A unique Bar Replay tool allows customers to fine-tune strategies by using played-back historical data. You can watch how the indicators react and see if order flow trends play out as the chart steps forward.
Note, these features are only available to new account holders only.
Cost
The cost of eSignal varies by subscription profile. Essentially, access to more tools and features will come at a price. All versions do offer a 30-day money-back guarantee so it is worth trialing before committing to the full software fees. Additional tools and access to third-party functionality will come at a charge. We outline the main costs below:
Subscription Fees
Classic – $58 per month or $48 on a 12-month billing basis (save $120 by pre-paying)
Signature – $192 per month or $144 on a 12-month basis (save $565 by pre-paying)
Elite – $391 per month or $314 on a 12-month basis (save $920 by pre-paying)
Our review found the eSignal service provider is competitive when it comes to the basic profile, however, the Elite version is expensive.
Let's also compare software prices for Trade Ideas, Das Trader for Interactive Brokers, TC2000 and TradingView vs eSignal:
Cost Comparison

| Provider | Standard | Premium | Pro |
| --- | --- | --- | --- |
| eSignal | $58 per month | $192 per month | $391 per month |
| Trade Ideas | $84 per month | $167 per month | N/A |
| TC2000 | $9.99 per month | $29.99 per month | $89.98 per month |
| Trading View | $14.95 per month | $29.95 per month | $59.95 per month |
| Das Trader | $120 per month | $150 per month | $175 per month |
Add Ons
Amplify the power of your eSignal profile with a wide variety of third-party apps and add-ons from established partners.
Some software is also available as a free download to enhance your trading experience. Note these are not intended as an alternative, but rather as an enhancement to existing packages:
MarketDepth – $25 per month
Volume Delta – $50 per month
Market Profile – $55 per month
Historical Volatility – Free
Moving Standard Deviation – Free
Bollinger's Indicators – Free
MarketDirection Monitor – $225 per month
Advanced GET Scanner – Download for $495 per year
Nirvana Systems Intrinsic Trend Module – $49 per month
Market Screener Plus+ – All tools are free with eSignal 12 versions
Pros Of Using eSignal
Compatible With Global Brokers – Link features directly to 50+ global partner brokers including TD Ameritrade and Lightspeed
Educational Content – Comprehensive educational platform, ideal for new investors.Access various tutorials, webinars and video content
Quality Data – Access to real-time market data.eSignal provides up-to–the-second market data from hundreds of financial markets.
View historical data too so you can see how trends were formed
Access To Third-Party Add-Ons – As well as proprietary eSignal add-ons and programmes such as Ice XL, the company provides access to various external software tools including Multi-charts eSignal data feed, QtCharts, TAS Market Profile and QCollector
Cons Of Using eSignal
System Requirements – eSignal requires a Windows operating system and is not compatible with MAC OS X devices or as a web trader. Make sure you always use the latest, updated software. Old versions may not provide the best environment
Fees – Subscription charges apply. Although basic packages are relatively competitive for Classic and Signature profiles, when comparing vs Elite the cost step-up is expensive. Additional add-ons and functionality also come at a cost
Regulation & Licensing
As a financial data services provider, eSignal is not directly regulated. Nevertheless, ICE works with regulators and policymakers around the world to ensure supervision, compliance and the reliable operation of financial markets. This includes adhering to the guidance and supervision of the Financial Conduct Authority (FCA) and the US Securities and Exchange Commission (SEC).
Remember, the data extracted and interpreted from financial data providers does not guarantee profits. Trading signals, market data and economic charting should merely be used as investment support.
Note, that trading integration and broker plug-in services are not available to eSignal users in the Europe, Middle East and Africa region.
This includes the UK, Germany and Dubai.
Global Brokers Offering eSignal
eSignal services are currently integrated with 50+ global brokers. Additional services may also be limited by the hosting company. For example, ViraTech is India's only authorized vendor of eSignal's Advanced GET software. Below we list some of the recognized brokers that currently support the eSignal data feed and software integration:
Connecting eSignal to broker partners is relatively straightforward. Download links and installation information is provided for all third-party integration. We outline the setup requirements below to integrate Interactive Brokers Trade Workstation (TWS) with eSignal as an example. The same requirements will apply irrelevant of which broker you are using. You will need:
An active subscription with eSignal (Classic, Signature or Elite)
The latest version of eSignal
A live and funded account with Interactive Brokers
The latest version of the TWS platform
A recent download of the Java plug-in
The latest version of the Interactive Brokers plug-in pre-installed with eSignal
Education
eSignal provides substantial educational support, ideal for new investors.
This includes an in-depth new user orientation to get you up and running in no time. Online webinars and video tutorials are also available, sub-sectioned into clear topics. A sense of community is established here with availability for file-sharing and peer dialogue platforms, similar to the MetaStock and MultiCharts discussion forums.
Support
The level of additional support integrated on the eSignal website is second to none. Covering everything in a convenient knowledge base hub; from initial sign-in, real-time exchange fees, to how to cancel a subscription, answers are available. These are consolidated into a user manual, tutorials, YouTube videos, online webinars and PDF glossaries. The support page is broken down into clear topics:
Add-Ons – eSignal API integration, Advanced GET user manual, RT Data plug-in
System Status – Service bulletins, extended time and sales posts, intraday history postings, live news feed updates, IPO calendar, changes to indicators list
Tech Support – Excel plugin, QLink upgrade, system download on an iPad, specific tutorial on how to install eSignal to a PC device, scripting language, legacy version
eSignal Product Support – EFS code library and programming tutorial, Futures Trader, peer forum, Options Analytix trading tool, symbols guide and Level 2 Market Depth data
Account Details – How to update personal security, general account maintenance, esignal.com member login, subscription refunds, upgrade a profile, amend personal details such as username, lifetime license and applying a discount code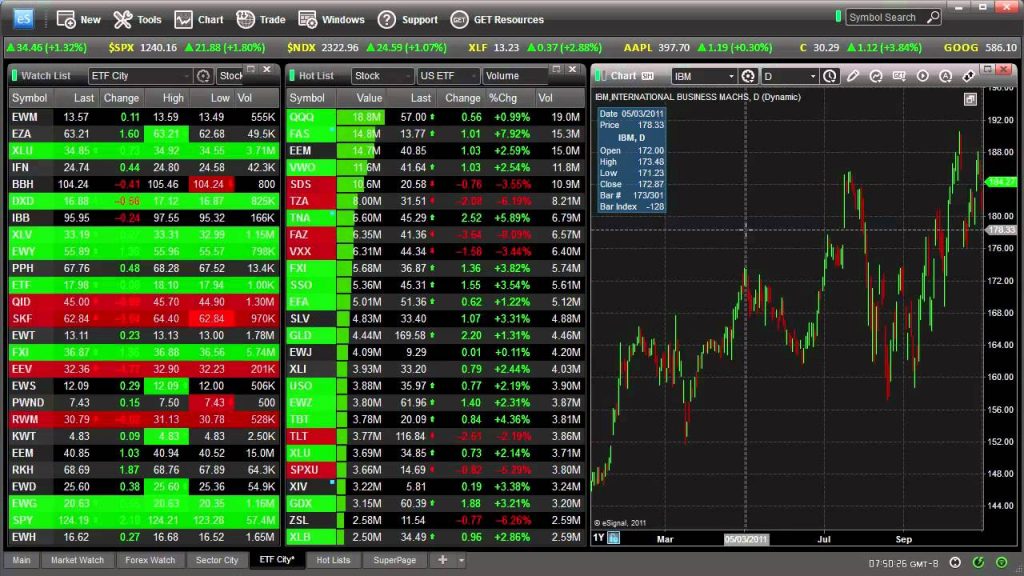 Security
Traders can feel assured that eSignal can be integrated into network environments without compromising security.
Services require the use of specific configured ports for internet access through firewalls, as well as proxy servers. Look out for brokers that encrypt personal and financial data exchanges between eSignal and their platform interfaces. This is indicated by a Secure Sockets Layer (SSL).
Two-factor authentication (2FA) can also be added to eSignal accounts. This added layer of security uses a verification code every time you log in to your online account via an authenticator app or email address prompts.
Reliability
eSignal offers a stable and reliable tool for all traders. Peer review sites including Wiki and Warrior Trading indicate customers are satisfied with the services and integration to existing brokerage accounts. With constant version releases, traders should feel assured of functionality upgrades, making it a supportive tool for various strategies and investing styles.
Essentially, the software can make trading and investments simpler, faster and thought-out. It takes the time off sometimes lengthy asset research and price quotes analysis. The online workspace and tools page is easy to navigate with an intuitive layout and access to real-time market data.
Customer Support
Access to responsive and non-automated customer service is important when trading, particularly when utilizing new software. eSignal provides various customer support solutions, available to contact six days a week. Service hours are Monday to Thursday (9 AM-3 AM GMT), Friday (9 AM-10 PM GMT) and Sunday (6 PM-3 AM GMT).
Options include a phone number, email and live chat. Live chat services are typically the most convenient help method and often provide the fastest response times.
Email – [email protected]
Address – 919 E.Hillside Blvd, Foster City, CA, 94404
Live Chat – Located on the top navigation bar on the website
Telephone – Americas: +1 (770) 999 4511, Europe: +44 (0)20 3948 6511, Singapore: +65 9750 1135, Australia: +61 3 9067 7000
eSignal Verdict
So is eSignal worth it? We think so. eSignal offers a stable and reliable tool for traders of all experience levels. There is something for everyone, whether that be integrating technical indicators, utilizing advanced charting packages or simply viewing real-time market data trends. Using the service as a standalone product is ideal, with hundreds of additional add-ons to create a unique environment suited to your trading style. Developed by ICE, the service also maintains the highest quality data in the industry, an aspect often overlooked when comparing charting software.
Just make sure you aren't paying above the odds. Keep an eye on your total package payments as these can quickly add up.
FAQ
What Is eSignal Software?
eSignal is an advanced charting platform aimed at active traders looking for real-time market data features.
The software can be integrated across platforms at 50+ global brokers bringing extensive drawing tools, indicators and analysis displays. Understand past trends and identify profitable trading opportunities with infinite data for instant investment support.
Who Owns eSignal?
The eSignal software is owned by Intercontinental Exchange, otherwise known as ICE. This is the same company that operates the New York Stock Exchange and ICE futures exchanges, so you can be assured of the highest quality services and tools.
How Much Does eSignal Cost?
The cost of eSignal varies by subscription profile (Classic, Signature and Elite). This differs between $58 per month and $391 per month. Access to add-ons and third-party features come at an additional cost, though some free tools are offered.
Does eSignal Work On Mac?
No, eSignal is not currently compatible with Mac devices.