MT4 binary options brokers offer MetaTrader's award-winning desktop, mobile and web trader platform.MetaTrader 4 is popular with binary options traders due to its extensive market analysis features, ease-of-use, and high levels of customizability.
In this guide, we list the best binary options brokers with access to MT4 in 2023.We also explain how to do a comparison of supporting brokerages, from underlying assets to payouts and demo accounts.
It is worth pointing out that not all MT4 brokers will offer direct binary options trading on the platform.Users may be able to conduct analysis via a MetaTrader 4 demo account, but then have to place binary options trades through a proprietary, browser terminal.
MetaTrader 4 101
MetaTrader 4 (MT4) was launched in 2002 and developed by a software company called MetaQuotes.It has since gained significant popularity in the online trading community, including with binary options traders.
Offering a step up from many binary brand's proprietary terminals, MetaTrader 4 is home to powerful technical analysis tools, alerts and news, plus automated trading functionality.
For binary options investors looking to conduct detailed market and price analysis with a suite of integrated indicators and access to a library with thousands of custom add-ons, MetaTrader 4 is a good option.
An additional benefit of using the MT4 software is that you can move between binary options brokers without having to learn a new platform, thus giving traders more freedom to find the right brokerage.
Before we explain how to compare the MT4 binary options brokers, we outline the key features and functionality of the trading platform below.
Indicators
30 technical indicators are available on the platform as default, but MT4 also allows users to download and install custom indicators.
More than 2,000 free indicators and 700 paid options are available, supporting a wide range of binary options trading strategies.
MT4 binary options brokers also offer 24 analytical objects via the software, spanning lines, channels, Gann & Fibonacci tools, plus shapes, and arrows.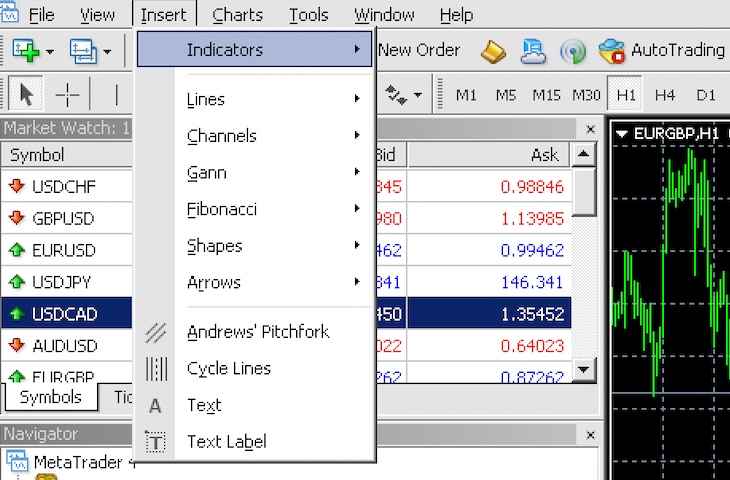 Note, if you experience issues with the platform, for example, indicators are gone/removed or keep moving, or the platform itself keeps crashing, you can submit a query to you broker's support team who may be able to help.
Timeframes
Binary options brokers with access to MetaTrader 4 allow users to view charts in nine different timeframes, ranging from one minute to one month. This means investors can view their preferred indicators across a range of time periods for more objective, informed, and accurate trades.
It also means the MT4 system can support a breadth of binary options contract lengths, from 30 seconds up to one hour, a day, or even weeks.
Additionally, MT4 binary options charts can be easily scrolled and resized, making it easy to track an underlying asset's performance from the short to the long-term.
Expert Advisors
Expert Advisors (EAs) are essentially automated trading programs that monitor the financial markets and make buy and sell decisions based on pre-programmed criteria.
By customizing your own settings or using presets, you can choose to receive notifications from EAs when a profitable opportunity arises and trade manually, or have them automatically open positions on your behalf.
MT4 also provides backtesting, coding, and demo trading features, allowing you to evaluate the performance of your EA in a live trading environment.
It's worth noting that several prominent brands offer their own binary options trading robots as well, such as Dukascopy and Alpari.
Comparing MT4 Binary Options Brokers
When selecting a binary options broker that offers access to MetaTrader 4, there are several critical factors to consider:
Payouts Explained
The top MT4 binary options brokers and exchanges will provide competitive payouts on popular assets. For example, Dukascopy offers 90% payouts while Alpari offers 80% payouts.
A helpful tip is to utilize a brand's demo account to verify the payouts available for the assets you want to trade. Cryptocurrencies, for instance, may have lower payouts due to their increased volatility.
Contract Lengths
Some binary options traders prefer to execute multiple short-term intra-day trades, while others favor longer expiries. The best MT4 binary options brokers will provide a decent range of contract lengths.
For instance, Dukascopy offers short-term contracts that expire in just 1 minute, as well as binaries that expire after 1 day. In contrast, Alpari is a better fit for traders interested in ultra-short-term binary options trading, with expiries ranging from 30 seconds to 4 hours.
Underlying Assets
The original MetaTrader 4 version was popular among forex traders.
However, traders can now use the software to trade multiple instruments and markets, from commodities to stocks, indexes, Bitcoin futures, ETFs, and CFDs.
For binary options traders, it is worth checking which underlying markets are available on the MT4 platform. Can you trade the broker's full list of major, minor, and exotic currency pairs? Does the terminal connect you to precious metals and energies? Alternatively, can you go high or low on major crypto tokens like Bitcoin?
Note, you can find a specific asset in MT4 using the navigation bar: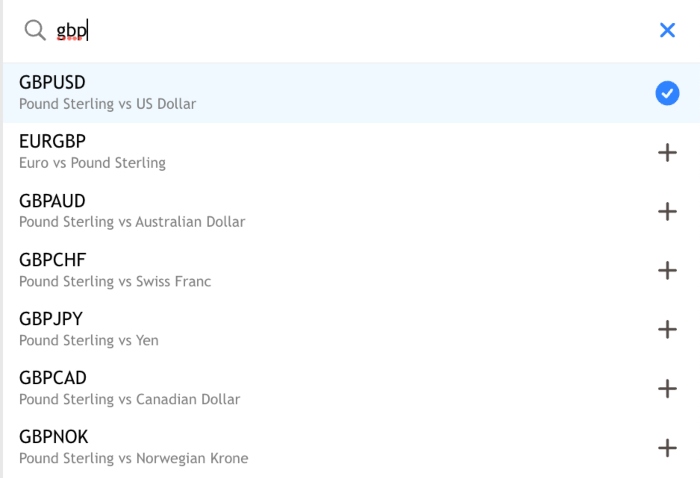 Deposits & Withdrawals
The best MT4 binary options brokers will offer near-instant account funding with zero fees.
A decent selection of payment methods is also an advantage. As well as traditional deposit options like debit cards and wire transfers, an increasing number of MetaTrader 4 binary options brokers offer crypto funding and support for e-wallets.
Copy Trading
Leading MT4 binary options brokers will offer copy trading, either directly or indirectly through the MT4 platform or their standalone service.
Copy trading is particularly appealing to beginners, allowing users to follow the signals, codes, and trades of established traders.
Brokers also normally collate and publish performance statistics to help new traders find a suitable investor to follow.
Trust
With binaries home to online scams in recent years, it is important to join MT4 binary options brokers with a good reputation.
Some large regulators do not license binary options firms, so for UK and US residents, for example, clients will often have to sign up with offshore brokerages.
With this in mind, it's important to sign up with trusted and recommended binary options brokers with access to MetaTrader 4.
Demo Accounts
The best MT4 binary options brokers will offer a free demo account. This is an opportunity to get familiar with the various volume indicators, price data, barcharts, portfolio yields, and other tools available on the MetaTrader 4 platform.
You can also develop, test and refine binary options trading strategies and then apply them in a live account when you feel ready.
Final Word On MT4 Binary Options Brokers
MT4 is one of the best retail trading platforms, making it popular with binary options beginners and experienced traders. The large range of technical indicators and user-friendly interface set MT4 apart from its competitors, but not all binary options brokers offering MT4 are equal, so compare payouts, markets, deposits, support, and more.
Use our list of the top MT4 binary options brokers to start trading.
FAQ
Can You Trade Binary Options On MT4?
Several binary options brokers offer the MetaTrader 4 platform.
However, it's worth pointing out that some brokers do not facilitate direct binary options trading on the platform. Instead, users can conduct analysis on MetaTrader 4 and are then required to trade through their broker's proprietary terminal. This is because many brands removed the software from their offering in recent years.