Trader Workstation is Interactive Brokers' proprietary trading platform, well-known for its customisable Mosaic interface and vast array of order types. Traders have access to over 100 markets not only through desktop software, but also via web browser and a mobile app.
In this tutorial, we explain what IB Trader Workstation is, how it works and provide a review of all its key features.
Trader Workstation Explained
Trader Workstation (often referred to as TWS) is a trading platform focused on technical analysis. Although TWS is the proprietary platform of Interactive Brokers, it is available to download through other brokers such as Banx, which offers the Trader Workstation 4.0. There are two versions of TWS called Classic and Mosaic; both of which can be used by IBKR Lite as well as Pro clients.
The Interactive Brokers (IB) Trader Workstation 10 platform can be downloaded to a desktop computer, on Mac (including Big Sur), Windows and Ubuntu Linux operating systems, or to Google Android and Apple iOS for traders with iPads or Chromebooks. Trader Workstation is also available as a web application, though it must be accessed through a Java enabled browser to avoid a Java error.
Here we compare Trader Workstation with some of the other leading trading platforms:
Trader Workstation vs ThinkOrSwim – while both platforms offer a large selection of order types, IB Trader Workstation has a greater range of assets including bonds which can't be traded on ThinkOrSwim.
Trader Workstation vs Das Trader – Das Trader outperforms on performance, with Trader Workstation having higher latency.
Trader Workstation vs NinjaTrader – NinjaTrader offers true tick charts unlike Trader Workstation, which falls behind in this area.
Trader Workstation vs Webtrader – Webtrader is considered the better option for beginners, with a more intuitive interface and a flatter learning curve.
Trader Workstation vs Tradestation – Trader Workstation offers a more diverse range of assets than Tradestation, plus a superior mobile app.
How To Use Trader Workstation
Before you can login to Trader Workstation, you will need to install the platform software.
Visit the Interactive Broker's website for the latest download version and information about system requirements, including screen resolution, RAM, CPU (32 or 64 bit), operating system and browser.
After you login, you have the option to download the offline installer so that you can use Trader Workstation offline if preferred. This version will require manual updates for new features as new versions won't be automatically downloaded unlike when using TWS online. You can also update the auto log off settings in the Lock and Exit page, though there isn't the option to completely disable this without installing external software.
Next, add market data to your platform view. Time and sales data is available for all assets, which can be added by typing its symbol into the 'Contract' column of the Quote Monitor page. It is possible to select options via the Option Selector page, where you can also view option chains (a list of all options for a particular security). Remember to change to the correct time zone, language and convert to the currency you intend to trade with.
Once your platform view is setup, you can create orders using several different methods. The most basic way is to do it via the Quote Monitor, by clicking 'ask' to create a buy order, and 'bid' to create a sell order. You then have the option to update parameters such as Action, Price, Quantity and Order Type, before clicking 'transmit' to execute the order. The Order Ticket is an alternative method of creating orders that allows traders to set the order attributes from a single tab.
Traders can also attach a trailing stop loss using the Advanced Orders Panel.
Features
TWS Mosaic is the platform interface workspace that provides traders with comprehensive order entry and management. The customisable 'drag and snap' layouts mean traders can easily view their account value table and graph summary using the Portfolio View, execute orders using the Order Monitor, view their watchlist and analyse trading charts all at once.
The TWS Mosaic window is highly interactive and customisable, with options to change the background colour and switch between light and dark themes. Market depth (DOM) is available by right-clicking on a market data line and selecting 'Show Market Depth' or 'Show Level 2'.
For traders using multiple monitors, simply select 'New Window' and 'Portfolio' to create a new Monitor.
The Mosaic view can also be enhanced with premium subscriptions from analyst providers such as Reuters, Dow Jones and Morningstar and real-time trading news that can be filtered by subject.
Charts & Indicators
TWS provides traders with the capability to save chart configurations as templates, which allows favourite layouts to be reused. Accessories such as crosshairs, position indicators and volume histograms can be toggled on and off the charts.
Although TWS offers a good selection of standard indicators, full volume profile and market profile indicators are unfortunately not available.
It is not possible to create custom indicators using the Trader Workstation platform.
Order Types & Algo Trading
Trader Workstation offers over 100 order types, which can be utilized for executing orders automatically and minimizing risk. Some examples include 'Conditional Orders,' which require specific criteria to be met before the order is submitted, 'VWAP (Best-Efforts),' which aims to achieve the Volume-Weighted Average price (VWAP), and 'Bracket Orders,' which limit losses by creating two opposite orders around a position.
TWS also provides access to third-party algos, offering traders an even broader range of automated trading solutions.
Mobile App
The IBKR mobile app provides the same charting and order functionality as the TWS platform, allowing traders to execute trades on-the-go. Additionally, the app provides free customer support and daily market briefs. The mobile app is available on Google Play and the App Store.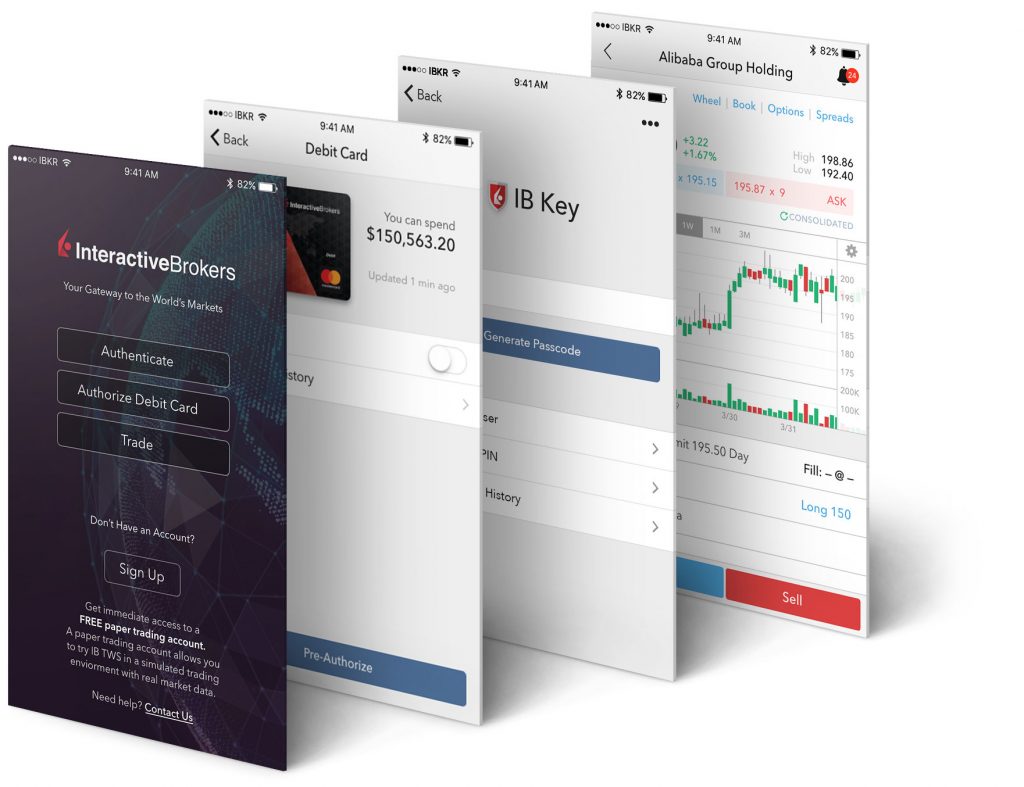 Paper Trading Account
The Paper Trading Account is a demo account that enables traders to practice trading in a simulated environment without any risk. This account allows traders to familiarize themselves with the trading platform using 1,000,000 USD of virtual funds, which can be reset at any time.
Backtesting
Traders have the option to backtest their trading systems using the backtest settings in the Portfolio Builder.
This allows a strategy to be replayed using historical trading data, and the results used to optimise the strategy.
YouTube Videos
IB Trader Workstation offers a variety of educational YouTube videos including Trader Workstation for futures, tutorials on displaying pre-market charts and fractional shares to build a more balanced portfolio.
API
The IB Trader Workstation (TWS) API can be used to integrate the TWS platform into existing applications and websites, enabling users to access stocks, options, futures, forex, bonds and funds data, via bespoke platforms and applications. Programmers can use languages such as Python, Java or C# to write scripts that enhance the TWS functionality.
Hotkeys
Hotkeys are extremely useful for rapidly executing orders.Traders can develop these shortcuts by assigning any keystroke or combination of keystrokes to different actions including buy, sell, transmit and cancel.
Outside RTH
Outside Regular Trading Hours (RTH) is a feature that allows traders to continue an order after normal trading hours. It can be applied as a default setting, or on an order by order basis.
TWS Market Scanner
The TWS Market Scanner identifies the best-performing assets across markets including stocks, options and indices such as the NASDAQ Composite, UK 100 or the India NSE NIFTY. Traders can filter their scan using constraints such as instrument, price, volume and industry.
Trade Logs
Trade history is available using the Trade Log screen, which can then be sent via email.
Those looking to download the data can export it to a .txt file before converting it into Excel spreadsheet format.
Pros Of Trader Workstation
Trader Workstation offers several advantages versus other platforms:
Access top competitive commission and trading rates when trading through Interactive Brokers
Vast range of assets available for trading, across different markets and industries
The online pdf user guide is extremely in depth but simple to read, making it a great manual for beginners
Cons Of Trader Workstation
Additional fees are charged for more common indicator types such as the TTM squeeze, which is often free on other platforms
While there are a wide variety of support options for those requiring technical help including email, telephone and live chat, the customer service reviews are poor
TWS is slow compared with other platforms, with laggy zoom functionality and users complaining of hotkeys not working and connection errors
Trader Workstation Verdict
Trader Workstation is considered one of the best trading platforms due to its wide selection of assets and highly customisable interface. It also offers a huge range of order types which help to reduce the risk when trading. Unfortunately, the interface is less responsive than alternative platform providers, though the paper trading demo account is a great way to try out the trading environment before committing any capital.
FAQs
What Is Trader Workstation?
Trader Workstation (TWS) is the Interactive Brokers proprietary trading platform, which is accessible via desktop download, web application, or mobile app.
Is Trader Workstation Free?
The cost of IB Trader Workstation depends on the broker account type being used.
For example, traders using an IBKR Lite account have access to unlimited free trades on US-listed stocks and ETFs. For IBKR Pro account members, commission fees are $0.005 per share.