VeChain is an enterprise blockchain solution and cryptocurrency that has been around since 2016 and was developed to bring accountability, transparency and efficiency to trading and business operations. Originally a fork of the Ethereum codebase, it is now its own fully-fledged blockchain network designed to optimise supply chain management and business processes. This article will review how VeChain works, compatible brokers and the latest token news. Find out how to start trading VeChain today.
What Is VeChain?
VeChain is a utility blockchain platform from China that works to streamline information flow for complex supply chains using distributed ledger technology (DLT). It also aims to administer governance and Internet of Things (IoT) technology to make an ecosystem that avoids some of the major issues with traditional supply chain management.
The idea and real-world use of VeChain is to boost traceability, efficiency and transparency in supply chains whilst lowering costs and providing more control to individual users. The foundation is also involved in other DeFi enterprises, like NFT trading, and undergoes regular updates.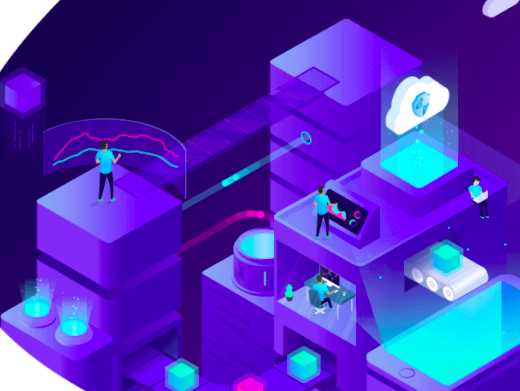 VeChain has several integrated tokens that can be traded externally with the altcoin tickers (abbreviations) VEN, VET and VTHO.
History
VeChain was conceived back in 2015 as the product of creator, co-founder and owner Sunny Lu, an IT executive.
Lu has become well-known within the cryptocurrency industry, drawing attention towards the ability of blockchain technology for improving transparency.
Lu argued that it can create "trust-free" structures that do not suffer from corruption when playing a part in the supply chain.
This has aided other supply chains in the market and, in some ways, VeChain has paved the way for logistical blockchain enhancement.
Furthermore, having launched as a coin in 2016, it is also one of the oldest dedicated blockchain supply chains on the market.
More recently, VeChain was involved in the E-HCERT application that used blockchain technology to accurately and efficiently archive COVID-19 test results and vaccination certificates for Cyprus.
Live Price Chart
All the live price charts on this site are delivered by TradingView, which offers a range of accounts for anyone looking to use advanced charting features.
The above charts can be altered for different charting types, indicators and timeframes, such as a daily line graph, though there is no yearly chart option.
You can also click the trading symbol 'VETUSD' to look for other valuations, such as the GBP max price.
For more details on the VeChain tokens, CoinMarketCap is a useful website. This tool can give you information on the all time high, lowest dip, max token supply, and announcements for upcoming events.
Features
VeChain's platform contains two different network tokens: VeChain Token (VET) and VeChain Thor Energy (VTHO). VET is used to transfer through the blockchain's network, predominantly for payments and voting, whereas VTHO is used as energy to power smart contract transactions.
Beyond these two tokens, there are several other core properties within the protocol, the first of which is Thor: the core blockchain present for account management, transactions, and smart contract development. Then there are VeChain IDs, which consist of digital identities affixed to goods in a corporate supply chain that allows tracking via NFC (Near Field Communication) and RFID (Radio Frequency Identification) chips and QR codes.
VeChain also hosts a useful explorer API that lets users search transactions, addresses, and activities occurring on the blockchain.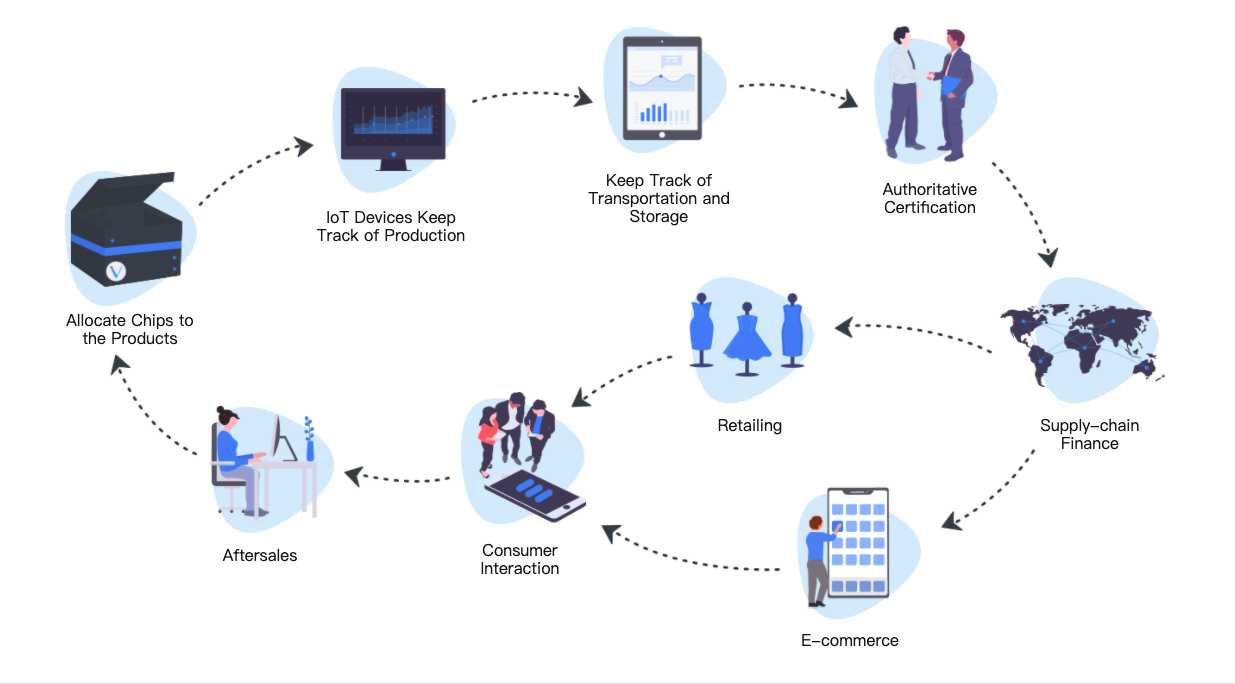 Governance
VeChain departs from many traditional cryptocurrencies in its governance regime.
The blockchain platform is semi-centralised, where most are fully decentralised. The impact of this is to remove some of the immutability proffered by others, though it allows the company to offer business services and provisions.
Additionally, VeChain follows a proof-of-stake validation system, rather than the traditional high energy consumption proof-of-work mining regime. This allows traders and investors to get involved in staking or yield farming by locking up some of their tokens for validation of any blockchain transactions for token rewards.
Staking can be done through Binance or directly on the network and transforms your connection into a node. The white paper on the foundation's website outlines several node classifications.
Authority Nodes
Sitting at the top of the node hierarchy, there are 101 authority nodes that are responsible for the validation of blockchain transactions. These nodes are selected by the VeChain foundation and require a full application procedure with know your customer (KYC) checks (though their identities are kept secret). The minimum token requirement is 25 million VET, meaning only the top supporters can earn authority node status.
Authority nodes dedicate hardware to the blockchain network and receive the greatest VTHO generation rate, VET rewards and voting rights.
Economic Nodes
VeChain economic nodes do not validate any transactions on the blockchain or dedicate hardware to the network, though they do help provide stability to the system.
Economic nodes must hold more than 1 million VET and must simply place their tokens into a traceable wallet so they can start earning VET and VTHO rewards.
Economic nodes are split into strength nodes (1 to 5 million VET), thunder nodes (5 to 15 million VET) and Mjolnir nodes (15+ million VET). Each node type has different reward rates and maturity periods. Users can upgrade and downgrade freely between node types.
X Nodes
The x node program is a newer addition to the VeChain node system and aims to reward dedicated supporters. There are four x node classifications: the VeThor x node (600,000 to 1.6 million VET), the strength x node (1.6 to 5.6 million VET), the thunder x node (5.6 to 15.6 million VET) and the Mjolnir x node (15.6+ million VET).
X nodes are much like economic nodes, with each offering its own reward rates and maturity periods. However, there can be no downgrading from x node status or from one x node down to another. If, at any time, your wallet level drops below the minimum requirements of the x node you currently belong to, you lose x status forever. X node holders also have access to the VeChain ICO's whitelist.
There is a limited quantity of x nodes and no more can be added to the ledger. Each is represented by an x node token, which must be bought from a marketplace. There will be no more VeChain x node stock sales in future.
An x node staking calculator is available on the VeChain website, providing full details on reward yields and requirements, plus a guide to running a node, for those interested.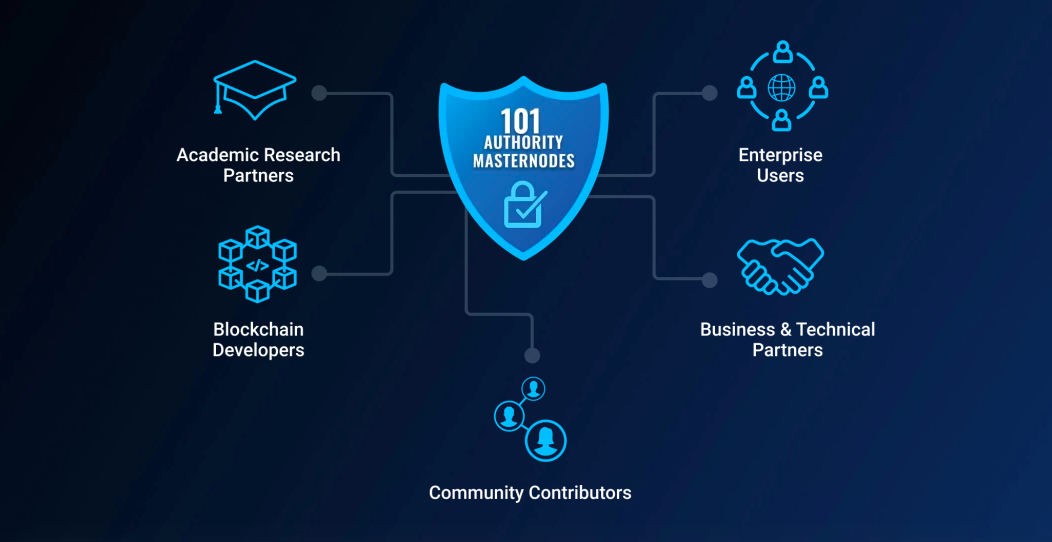 Pros Of Trading VeChain
There are several notable advantages to getting involved with VeChain:
Automated Product Tracking: Simplifies product tracking for partners through automation.
Secure Partnerships: VeChain has strong industry links to Ripple (XRP) and partnerships with companies like PwC, Microsoft, Viseo and Renault.
Growth Roadmap: The path for the blockchain's future is very clear, it has grown rapidly and looks ready to continue to do so following its roadmap.
Improved Trust: Removes the need for implicit trust between parties' transactions as the blockchain handles security and tracing.
Quality Control: Aids companies in maintaining consistent product standards throughout the supply chain.
Transparency: Allows a clear insight and visibility into products and transactions.
Strong Team: CEO Sunny Lu has extensive experience in IT and luxury brands (previously CEO for Louis Vuitton).
Efficiency: Completely decentralised blockchains can be slow, so VeChain uses a semi-centralised model for efficiency.
Old: As an early business-focused blockchain solution, VeChain is well established.
Cons Of Trading VeChain
Despite the above, there are some drawbacks:
Governance Centralisation: The blockchain has a committee, which makes the public blockchain more private and centralised than other competitor platforms like Ethereum.
Breadth Of Application: VeChain works with many different industries and so it can be a challenge to deliver high results for every niche.
Not Decentralised: Proof of authority relies on 101 nodes to validate transactions.
The system is not completely decentralised, which may cause issues if nodes become corrupted.
Rapid Growth: VeChain has experienced extremely fast growth, which carries risks if proper guidance is not in place.
Why Choose VeChain?
VeChain's unique feature is its transparency. It disrupts traditional supply chain models in an industry that had made little progress before the arrival of blockchain. Transparent technology allows for greater efficiency, security, and ease of tracking and using products, while lowering costs thanks to automation.
The model used by VeChain appeals to businesses looking to reduce supply chain friction and provide clients with more transparent transactions. The dual-token setup is one of the blockchain's key features, providing liquidity to its supporters in return for rewards.
How to Buy VeChain
Buying VeChain (VEN/VET) involves a two-step process. The first step is to purchase Bitcoin (BTC) or Ethereum (ETH) from an exchange that accepts credit/debit card or bank account transfers. Exchanges such as Gemini, Coinbase, or Coingecko enable easy purchase of major cryptos.
Next, transfer your cryptocurrency to a marketplace that offers VEN/VET sales in exchange for BTC or ETH. This transfer can be done via Binance, Gate.io, Huobi, Bithumb, and many more exchanges.
Many derivatives brokers also offer CFDs and other instruments on VeChain and VeChain Thor against the US dollar and other currencies, such as eToro.
How to Store VeChain: Best Wallets
Once you have purchased your tokens, you will need a wallet to store them in.
Tokens can be stored in the default desktop wallet VeChain Sync. Alternatively, any ERC20 wallet is compatible and many in the community opt for MyEtherWallet, which is well known for its high level of community trust.
The tokens also work with offline hardware like Trezor and Ledger Nano S, if you want an added physical layer of security.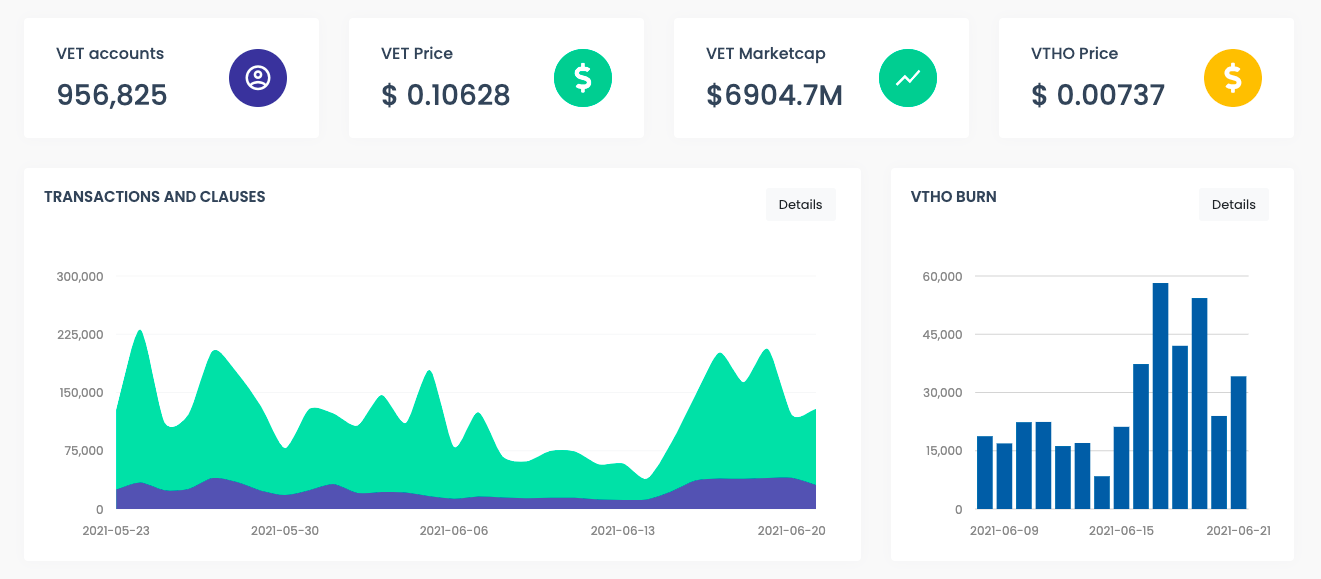 There are several wallet recovery processes that you can use, if required, with all information held on a virtual keystore.
Final Word On Trading VeChain
VeChain has shown significant investment and capitalisation since its inception in 2016, with ever-growing market demand. The blockchain's vision is ambitious but exciting, bringing positive advertising to the DeFi community and improving businesses as a whole. If you are looking for secure, efficient and transparent trading with a crypto that has a bright future, then VeChain could be a sensible option. See our list of brokers that offer VeChain trading to get started.
FAQs
What Is VeChain?
VeChain is a blockchain platform designed to enhance supply chain management and business processes.
Its goal is to streamline information flow for complex supply chains through the use of distributed ledger technology (DLT).