The New Zealand Dollar Index paints a picture of the overall performance of the country's currency and economy as it calculates a value against a basket of other currencies, rather than a single pair. This guide explains how to trade the NZD currency index, from supported brokers and trading vehicles to the key influences on its value. Sign up with one of the best brokers with access to the New Zealand Dollar Index to start trading:
What Is The New Zealand Dollar Index?
The New Zealand Dollar Index calculates an average value for the NZD by looking at its performance against a group of currencies. The composition of this basket will depend on the broker or firm that is calculating the index, but most of the time forex indexes comprise the currencies of the country's major trading partners, so Australia and the United States in this instance.
The Reserve Bank of New Zealand, the country's central bank, has long maintained a five-currency Trade-Weighted Index for the New Zealand dollar, which it called "a good summary measure for monetary policy purposes." From 2007 onwards the bank began calculating an expanded 17-currency TWI where the NZD is weighted against 17 different currencies from countries including South Korea, Malaysia, Canada, Thailand, and more.
This was introduced in 2014 and backdated to 1984 for consistency.
The NZD, also known as the 'Kiwi' is a commonly traded currency worldwide and has a high forex turnover compared to GDP as it attracts many international traders wishing to invest in a high-yield currency.
Weighting
The Reserve Bank of New Zealand calculates the TWI using a currency basket that includes 17 currencies, starting with its largest trading partner, Australia.
Countries on New Zealand Dollar TWI by weighting:
Australia
United States
Japan
United Kingdom
Euro Area
South Korea
China
Malaysia
Hong Kong
Indonesia
Thailand
Singapore
Canada
Taiwan
India
Philippines
Vietnam
Alternatively, CMC Markets offers its own NZD currency index with different weightings: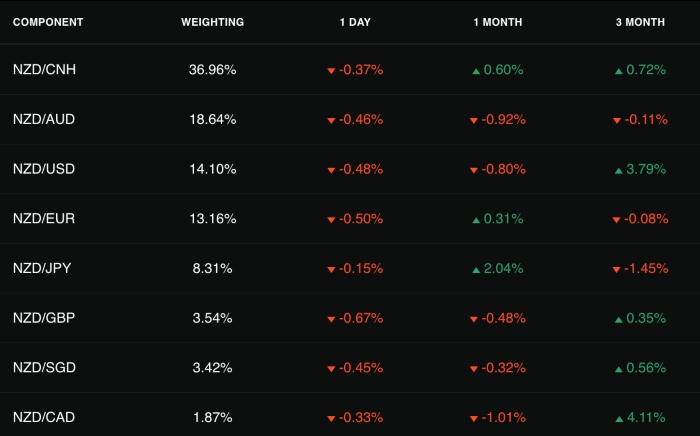 By comparing the NZD to all of these other currencies, the index gives a more complete view of the currency's overall performance, as opposed to a single currency pair, such as the USD/NZD, which only shows two currencies' performance relative to one another.
The New Zealand Dollar Index is therefore a good indicator of the country's economic direction as a whole, and is useful for anyone who has an interest in New Zealand companies as well as forex.
NZD History
The New Zealand Dollar was first established in 1967, replacing the New Zealand Pound and pegging to the US Dollar rather than the British Pound.
The New Zealand Dollar was floated in 1985 at $0.4444 USD, from which point its value was determined by supply and demand and financial market movements.
What Affects The Value Of The New Zealand Dollar Index?
Exports
Exports have a huge impact on NZD price movements, especially agricultural exports which make up around 75% of exported goods.
You should read up on the main agricultural sectors in the country; for example, New Zealand is one of the world's leading exporters of whole milk powder, so global dairy markets are likely to have a significant effect on the New Zealand Dollar.
Tourism
Tourism is big business in New Zealand, accounting for a direct contribution of $10 billion or roughly 3% of the country's GDP in 2021/22.
During the high season for tourism, there will be a higher demand for the currency, making it stronger against other currencies in a basket.
Policy
Monetary policy by the New Zealand Reserve Bank will have a direct impact on the New Zealand Dollar's performance. One of the main ways the central bank impacts NZD prices is by setting interest rates, with rates hikes usually meaning a stronger New Zealand Dollar.
A calendar that marks the dates of the bank's regular meetings is a good way to stay on top of policy decisions.
News & Events
News and major events also affect the currency and therefore the way that the New Zealand Dollar Index points.
News reports that can affect the NZD currency index include numbers reports on market sentiment, inflation information, GDP, and consumer confidence. You should also follow news concerning other factors of importance to New Zealand's economy such as dairy prices and tourism.
Major Trade Partners
New Zealand's largest trade partners are Australia and the United States, with Japan and the UK coming in at a distant third and fourth place. Any factors affecting the US or Australian Dollar will therefore have a knock-on effect on the New Zealand Dollar Index.
How To Speculate On The NZD Currency Index
Choose Your Instrument
The New Zealand Dollar Index is not easy to directly speculate on, as there are not many brokers that facilitate online trading on the asset. With that said, CMC Markets offers CFD trading on the NZD currency index with competitive conditions.
The minimum order size is 0.01 lots, 1:20 leverage is available, and shorting is permitted. The popular broker is also multi-regulated.
The index can also be a useful analysis tool for traders who have an interest in New Zealand, whether they are forex traders or investors in stocks or sectors from the country. Many investors prefer ETFs, as these are a relatively low-risk vehicle that gives you exposure to a range of assets, rather than a single stock.
The NZD currency index will be relevant to traders with an interest in emerging markets or agricultural ETFs or those that specifically focus on New Zealand's economy.
Choose A Broker
When choosing between New Zealand Dollar Index brokers, consider:
Fees – Anything you have to pay your brokerage comes out of your potential profits, so look for a provider with low or zero commission, a tight spread, and no deposit, withdrawal or account maintenance fees. For instance, spreads on the New Zealand Dollar Index at CMC Markets start at 0.5 pips.
Regulation – Make sure your broker holds a license with one of the major regulatory bodies and that it has a good reputation among its customers. Tier-one regulators include the UK FCA and US SEC.
Trading Platform – This is your gateway to the markets, so choose a broker that supports a fast, responsive and powerful trading platform with a full range of analysis tools – MetaTrader 4 (MT4) and MetaTrader 5 (MT5) are both good options.
Payment Methods – It is important that your NZD currency index broker supports the most convenient and affordable payment method you have access to.
Popular picks are PayPal, debit card, or wire transfer.
Create An Account

When you have chosen your broker you can create a trading account. This might require some KYC (Know Your Customer) checks and other steps toward verifying your identity, such as submitting documents.

When your account has been successfully opened, fund it with money via your chosen payment method and you can begin trading the New Zealand Dollar Index.

Trading Hours

The NZD trades with other forex markets 24 hours a day, 5 days a week. However, brokers that offer the New Zealand Dollar Index may have their own operating times.

CMC Markets, for instance, offers trading on the NZD currency index CFD from 00:00 to 22:00 GMT, Monday to Friday.

Final Word On Trading The New Zealand Dollar Index

The New Zealand Dollar Index takes into account numerous factors to present a more objective view of the currency's performance compared to standard currency pairs, such as the USD/NZD.

It is not a currency index that is generally used directly as the basis of trades, but it is a useful tool for analyzing the New Zealand economy broadly and for use by any traders with an interest in companies from the country or in the NZD. A few top brokers also offer their own trading vehicle on the New Zealand Dollar Index.

FAQ

How Does The New Zealand Dollar Index Work?

The New Zealand Dollar Index is a currency index that helps investors ascertain the value of the NZD by weighing it against the currencies of key trading partners and economies, such as the Australia and US, and calculating a weighted average.

This means traders know how well New Zealand's currency and economy are doing relative to the global market, and not to one specific country.

Why Does The New Zealand Dollar Index Matter?

The New Zealand Dollar Index is useful for traders speculating on the NZD because it establishes a more objective view of the currency's performance, rather than only its performance relative to another currency in a pair, such as USD/NZD.
This is because individual currency pairs can be significantly impacted by a rise or fall in one of the respective currencies.
What Influences The New Zealand Dollar Index?
The New Zealand Dollar Index will calculate a relative value of a currency compared to others in the same forex basket. This means that anything that affects the NZD's performance relative to the other currencies in the basket will have an impact on the index.
The most significant factors include the performance of New Zealand's tourism, agriculture and other significant sectors, foreign trade agreements and monetary policy.
Which Brokers Offer Trading On The New Zealand Dollar Index?
The best NZD currency index brokers include popular brands like CMC Markets. The broker offers leveraged CFDs (1:20), a 0.5 minimum spread, a 0.01 lot order size, and supports both long and short positions on its New Zealand Dollar Index.
---