Choosing one of the most trusted brokers when trading online is important to protect yourself from bad actors. A large number of scam forex, ECN, binary options, and cryptocurrency brokers have cropped up and cannot be trusted. Many fraudulent brokers also operate in the stocks and shares markets. Traders that invest their money with a non-trusted online broker risk losing their investment capital completely.
In this 2023 guide, we will look at why it is always best to choose a top trusted broker before exploring some of the top things to look out for. We have also compiled a list of our recommended best-trusted brokers below.
Why It Is Important To Choose A Trusted Broker
Sadly, in the world of online trading, scams, and dodgy brokers can be all too common. Many untrustworthy brokers promote themselves online via social media, offering fake endorsements and promises of huge returns.
Fraudsters often allow traders to make an initial profit, encouraging further investment before suspending their account and stealing the trader's money.
In another type of scam known as a 'bucket shop', criminals create an entire fake platform where customers can only trade with other users or the site itself.
This creates impossible conditions for the trader, while the platform itself makes a profit.
In short, by not using one of the most trusted brokers, traders put themselves at significant risk of losing all their investment capital.
In addition to straightforward scams, non-trusted online brokers may implement practices that work against the trader, while the most trusted brokers always allow their clients to trade on a level playing field.
For instance, some fraudulent forex brokers move quoted rates arbitrarily to trigger stop orders, allowing them to make more money from commission. Other brokers may have higher spreads than they first advertise, perhaps cleverly concealing a floating spread system.
Kitts and Nevis) may have lax regulations.
Security
Trustworthy brokers will take the security of your investments seriously.
They should use encryption to protect your personal and financial data, as well as offer two-factor authentication (2FA) to prevent unauthorised access to your account.
Some brokers may also hold your funds in segregated accounts, which means that they are kept separate from the broker's own funds.
Customer Service
Another important factor to consider when choosing a trusted broker is the quality of their customer service.
Good brokers will have a responsive and knowledgeable customer support team that can answer your questions and resolve any issues in a timely manner.
Look for brokers that offer multiple channels of support, such as phone, email, and live chat.
Trading Platform
The trading platform that a broker offers can also be a crucial factor in your decision-making process.
Make sure that the platform is user-friendly and offers the features and tools that you need to execute your trading strategy.
You may also want to consider whether the broker offers a mobile app, as this can be convenient for trading on the go.
Overall, choosing a trusted broker is essential for protecting your investments and ensuring that you have a positive trading experience.
Take the time to research different brokers and consider factors such as regulation, security, customer service, and trading platform before making your decision.
Using an offshore broker is legal, but it may not offer the same level of protection. The regulations in offshore countries like Saint Vincent and the Grenadines may be weaker. However, there are legitimate reasons for a company to be based in a particular country, such as tax purposes. It is recommended to approach offshore brokers with caution and do extra research. To ensure peace of mind, it may be worth using a trusted on-shore broker for online trading.
Company History and Trader Reviews
Researching a firm's history can help find the best brokers. The most trusted brokers are usually those that have been trading for over a year. There are also online blacklists of untrustworthy firms, such as Traders Union and Blacklistedbrokers.com. FINRA's BrokerCheck tool lists legal actions against a broker. Reading customer reviews online can also help find trusted brokers. However, it is important to note that a few negative reviews do not necessarily indicate that a broker is a scam. It could be due to a trader's inexperience in the market. Nonetheless, reviews regarding difficulties in withdrawing funds should not be ignored. The broker's site must also have an SSL certificate to avoid cyber threats.
Customer Support
The most trusted brokers have excellent customer support. A well-run customer service department indicates that a broker values its clients' trading experience. Brokers with hard-to-reach or non-existent customer support are usually not trustworthy. Reading trusted broker reviews and rankings can help find brokers with reputable customer service departments. Trusted brokers with excellent customer service also receive industry prizes, such as the Broker Of The Year award from DayTrading.
Advertising
Dishonest brokers tend to advertise heavily on social media or online.
Other fraudsters promote their platform using fake accounts on messaging apps.
Unlike the most trusted brokers, their ads tend to focus on 'getting rich quick' and may emphasise flashy or expensive products.
Dodgy brokers' adverts tend to ignore the risks of online trading and fake endorsements by celebrities or economic 'experts' are common.
Forex trading, binary options trading and cryptocurrency trading are most commonly affected by scams.
The best-trusted brokers will never cold call potential clients.Any broker asking you to make an immediate payment is also suspicious, so be wary.
Transparent Pricing & Deposits
The top trusted brokers have their pricing details available online.
All information concerning spreads, fees and withdrawals should be easily accessible and clearly laid out.If a site advertises very low spreads, be careful: some brokers use a variable fee system, with spreads actually much higher than claimed initially.
Furthermore, dishonest brokers may implement extra 'hidden' charges on withdrawals.To avoid paying these hidden fees, check the small print on a broker's website – if the costs do not match up to what is advertised, the broker may not be trustworthy.
Reading customer or professional broker reviews can also help you to identify disingenuous brokerage firms.
Additionally, the most trusted brokers will not require suspiciously high minimum deposits.While some accounts with high leverage aimed at professional traders may require large minimum deposits, those aimed at beginner traders should be more affordable.
Beware of brokers offering excessively generous deposit bonuses as a reward for signing up quickly.
Negative Balance Protection
Many of the more legitimate and trusted brokers implement negative balance protection (NBP), which means that losses cannot exceed the funds held in a trader's account.
It is often applied to leveraged products like CFDs. NBP makes it impossible to owe a broker money, as this can be a stressful and unhappy situation.
However, it is still possible to lose all of your capital. Many regulatory bodies, including the FCA, require that brokers have negative balance protection.
Reputable Strategies & Tools
The most trusted brokers often use well-known trading platforms like MT5, MT4, LIBERTEX, QUIK, TRANSAQ, CQG or ROX.
If a broker uses software that you have not heard of, Google the name to check that it is legitimate. Additionally, a broker that focuses heavily on PAMM (Percentage Allocation Management Module) accounts may be untrustworthy, though many legitimate firms offer such services.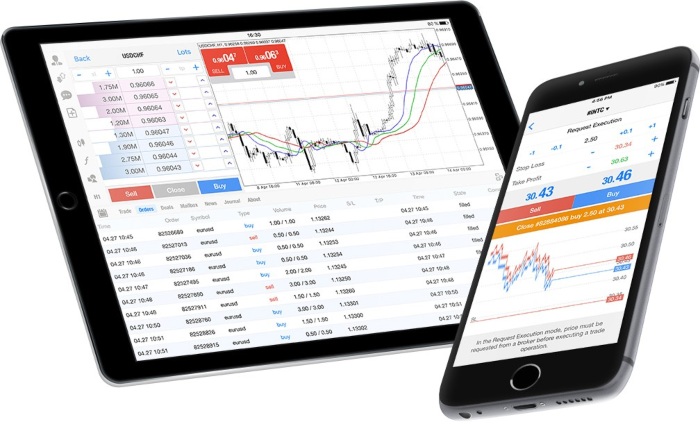 Final Word On The Most Trusted Brokers
Using one of the most trusted brokers will allow you to trade with confidence and peace of mind, though risks are still present.
Too many traders each year are scammed by dodgy firms, losing large amounts of money in the process.
However, if you opt for a trustworthy broker, you can safeguard your funds and trade with a peaceful mind.
FAQs
Why Should I Choose One Of The Most Trusted Brokers?
Choosing a reliable broker will help you evade internet scams and secure your capital. By selecting one of the most trustworthy brokers, you can ensure that your trading is equitable and fair.
How Can I Tell If a Broker Is Trusted Or Not?
The most dependable brokers usually have regulatory compliance, good customer service that can be contacted, and positive online reviews. Be cautious of brokers who promise significant profits without any risks.
Should I Choose A Regulated Broker?
Regulated brokers are required to abide by stringent legal obligations.