xStation is the proprietary trading platform offered by online broker XTB as an alternative to MetaTrader 4. The xStation 5 platform has a range of features and supports many different asset classes. This review will cover all angles of both versions of XTB's platform: xStation 5 and the xStation mobile application.
Company Details
XTB Online Trading has been going since 2009 and is one of the largest stock-exchange-listed CFD brokers in the world. The firm has offices in 11 countries, including the UK and Germany, and has secured high-profile brand ambassadors such as Hollywood actor Mads Mikkelsen and football manager José Mourinho.
The firm accepts clients from many countries throughout the world, including most of Europe and Latam (Latin America) but with notable exceptions Belgium, the US and Australia among others. xStation is the award-winning trading platform offered by the broker and is available on the web or as a mobile or desktop app.

Platform Breakdown: Features & Usability
One major selling point of the xStation platform is its functionality and usability.
The interface layout of xStation is designed to be easily navigable for both experienced traders and beginners. It offers over 2,000 instruments including forex, indices, commodities like gold, stock CFDs, ETF CFDs, and even cryptocurrency CFDs for traders outside the UK. The "Market Watch" feature allows for easy navigation of instruments and asset classes by making the list fully customizable. Different asset classes are divided into practical sub-categories, such as major forex pairs, minors and EM pairs for FX pairs, and by country for stocks.
Traders using xStation can also take advantage of leverage, with margin levels displayed in the bottom right corner of the screen. The platform offers 29 drawing tools and 37 technical indicators that can be easily customized to suit individual preferences. Multiple workspaces can be set up to allow for efficient trading.
This makes sorting and grouping your chosen instruments easier.
To open a new workspace, click on "Workspace" in the top left-hand corner of the chart and select "Add New".
You then have the option to name this workspace – "US Stocks", for example.
You can open an unlimited number of workspaces and add up to 16 charts to each.
If you have more than one monitor you can detach these charts and view them on different screens.
Charts can be viewed in full-screen mode or you can view multiple charts in grid mode.
You can change or close any of these charts by clicking on the tab below them.
The charts have a countdown timer that shows how long is remaining on each candlestick, which is a practical addition, and economic news releases can be seen on the bottom axis of the chart, keeping traders up to date with the latest developments.
Seasoned traders will welcome the abundance of charting tools.
Furthermore, newcomers should have no issues getting to grips with charting on xStation, as it is an extremely intuitive process.
Order Types
xStation has three main order types, with the possibility of adding "take profit" and/or "stop-loss" orders.
Traders can also add a trailing stop loss before or after executing the trade.
Market: A trade is executed at the prevailing market rate. The simplest order type.
Limit: Depending on whether it is a buy or sell order, a limit order is executed at a predetermined point above or below the prevailing market rate.
A trader can also select the expiration time of this order.
Stop: A stop order is also a pending order which will be executed above or below the prevailing rate depending on the position. Traders can also select the expiration time of stop orders.
Mobile App
The xStation mobile app includes almost all the same functions as the web platform. Some notable omissions include the ability to set price alerts, a watchlist that syncs to the web platform, and more than 20 indicators available on the web and desktop platforms.
Aside from this, the app is streamlined and extremely well-designed. Important features such as streaming news, pre-defined watch lists, an economic calendar, top movers, and client sentiment data are all retained. There are also several education videos integrated into the mobile app that can be accessed at any time. Charting is also a smooth process on the app, with drawings and trend lines saved automatically and a responsive zoom function.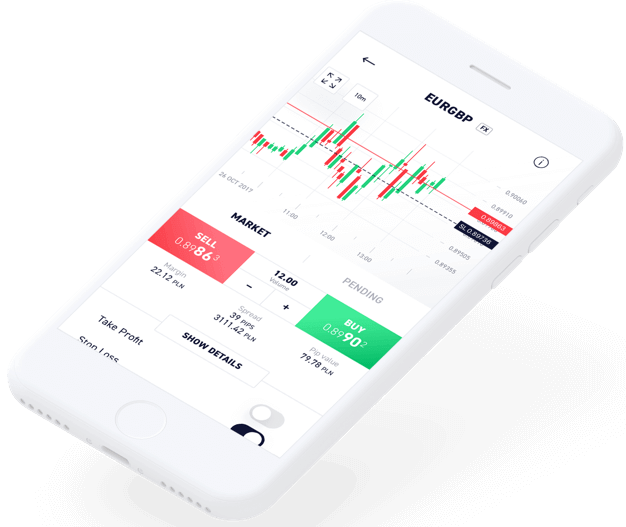 Demo Account
You can open a free xStation demo account loaded with $100,000 of virtual funds. You can use this account for up to four weeks to practice trading risk-free and get to know the platform.
The demo account also provides access to the "Premium" level of education courses.
Guide on How to Place a Trade on xStation
There are three ways to initiate a trade on xStation:
Market Watch – Use the market watch window to locate a market you want to open a position on. Click on the name of the market and an order window will appear. You can then select the transaction volume and whether to apply a stop loss or take profit order level. The order window also displays the spread in both pips and monetary value, commission, pip value and daily swap points. After selecting your volume, choose the direction you want to trade. Click the green button for buying or going long, or click the red button for selling or going short. Your order will then be placed.
The Charting Deal Ticket – You can also initiate a trade from the chart window. After analyzing a market and deciding to trade, you will find the same red and green buttons on the top left-hand corner of your screen. You can adjust the volume of your trade from this window.
Three-Click Charts Trading – You can directly initiate a trade on the chart using xStation's three-click trade functionality. On the chart of the market you wish to trade, click on the 'Place pending order on Chart' icon on the top. This will activate the three-click functionality. Then, click on where you want to trade, use the second click to indicate where you want to place your stop loss, and use the third click to indicate where your profit target is.
You will be presented with a new order ticket based on what you have clicked. Click buy or sell to complete the order.
Education & Analysis Features
Portfolio Breakdown

xStation provides clients with a portfolio breakdown to help you keep track of all your trades. The statistics are broken down into overall profit/loss, specific instruments, percentage accuracy (all/buy only/sell only), average trade duration, average/maximum consecutive winning/losing trades and average/maximum profit/loss on winning/losing trades. Advanced users may prefer a platform that provides a more detailed breakdown but this should be sufficient information for any beginner or intermediate trader.

News

The xStation news section provides traders with up-to-date information on important global news. You can search the news by category or keyword by using the filter section on the top left-hand corner of the screen. The news section contains succinct, relevant and well-written news reports.

Economic Calendar

The xStation economic calendar is very easy to get to grips with and can give you the edge when trading stocks and other foreign markets. It is a good idea to be aware of periods of high liquidity and the calendar will give you announcements for each country, time and currency. as well as forecasts, previous numbers and actual posted numbers.

Market Sentiment

The market sentiment section is a helpful feature that displays the overall open position status for all XTB clients.
This is displayed in clear, understandable graphics and can help you gauge how other traders are thinking.
Top Movers
The top movers feature gives you the chance to see which instruments have had the biggest percentage moves in the last week or month. This is a useful way to spot potential trades by looking at increasing volatility.
Stocks Scanner
This allows you to keep track of your chosen stocks and filter what you see by market cap, EPS, P/E values, dividends, ROE and BETA. The xStation heatmap is essentially the same thing as the stocks scanner, only in a different, chromatic graphical form.
Investment Basket
A unique tool of the xStation platform is the "investment basket". This allows traders to group various instruments thematically. You can then open a position on all instruments simultaneously with just one click. Baskets can contain both long and short positions, making them useful for certain advanced trading strategies.
There is also a small selection of educational videos and tutorials available on the xStation platform, as well as a YouTube channel with guides, updates, tips and tricks. You can view your trade history by clicking on the "History" tab. All data can be exported as an excel/CSV file for ease of tax reporting.
How To Download xStation
The xStation platform is available on the web without the need to install any software, or as a mobile or desktop app. To download the desktop client, you will need to open a demo or live account on the XTB website.
Note that some traders will be eligible for a welcome bonus.
Once you log in to your account, you can download xStation for your PC, both for Windows and Mac. You can find the mobile app by searching "xStation" on the Google Play Store for Android (APK) devices or the App Store for Apple (iOS) devices. You will be able to trade on the go, even from your Apple Watch.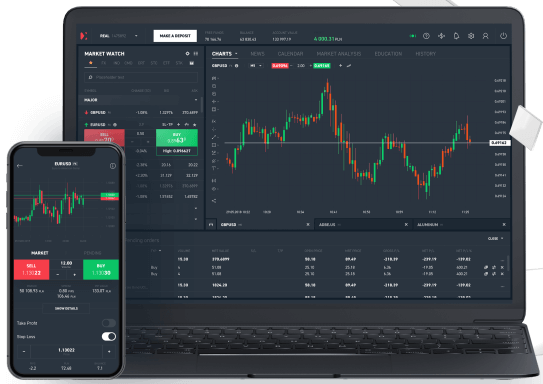 MetaTrader 4 (MT4) is a well-known trading platform offered by many brokers. Users on XTB can choose to trade on either xStation or MT4 but the option to trade on MetaTrader 5 (MT5) is not offered. Here is a list of the main differences and similarities between xStation and MetaTrader 4:
Spreads are wider on MT4. If you are trading with XTB, you will find that xStation offers tighter spreads.
xStation does not allow automated trading but MT4 supports the use of expert advisors (EA) to automate your trades.
XTB does not offer its own ready-made back-testing applications (back-testing evaluates how a particular strategy would have fared using historical data). MT4 users can create their own.
There is an official API for xStation 5, where users can open trades and retrieve real-time data using JSON.
Note that, although Python APIs for xStation exist, they are not official.
MT4 users have access to 24 analytical tools and up to 30 inbuilt technical indicators and chart types, including lines, bars and candlesticks.All tradable assets can be displayed over nine timeframes.xStation 5 clients can make use of 29 drawing tools and 37 technical indicators.
MT4 users cannot trade cryptocurrencies CFDs, including Bitcoin.xStation clients have access to XTB's full range of products.Note that UK users will not be able to trade crypto CFDs.
Users can execute withdrawals directly from the xStation platform but those using MT4 will need to log into their XTB client office for this.
Advantages
Full range of products – including crypto CFDs
Extensive range of technical features
Three-click trade functionality
Functional and streamlined
Investment baskets
Customisable
Tight spreads
API support
Drawbacks
No automated trading
No backtesting applications
Limited portfolio breakdown details
Final Word On xStation
Overall, the xStation platform has an extensive range of features that should satisfy the needs of most traders, retail or professional.Its sleek and user-friendly design means that it gives stiff competition to industry favourites like MetaTrader 4.It also has a range of useful and creative additional features, such as its chart-based three-click trading functionality and the ability to create investment baskets.
However, the platform lacks in its back-testing and automation capabilities. Ultimately, unless you are using algorithm-heavy strategies, this platform comes highly recommended.
FAQs
Is xStation A Good Trading Platform?
xStation is XTB's proprietary trading platform. It is popular due to its functionality and usability. The platform has 29 drawing tools and 37 technical indicators. When trading with XTB, xStation has access to tighter spreads and more instruments than the MT4 platform.
What Is The Difference Between xStation & MetaTrader 4 (MT4)?
XTB offers two trading platforms for its clients: xStation and MT4. xStation, its proprietary software, comes with an extensive range of features and has a highly intuitive and user-friendly interface. However, its competitor, MT4, is better suited for algorithmic or EA traders as it allows for back-testing and automation.
Where Can I Download xStation?
xStation 5 is available on the web or as a desktop or mobile.