As hands-off trading becomes more and more viable as a long term investment strategy, many traders will be looking for the best brokers with Robo advisors. Brokers with Robo advisors are becoming more and more common, with billions in capital trusted to Robo advisors worldwide. Following this guide, you can join this widespread adoption of Robo advisors, discovering the best Robo brokerage accounts with which to trade.
What Are Robo Advisors?
Traditionally, those looking to invest in stocks and shares would turn to financial advisors for assistance when planning a bespoke investment strategy based on their risk tolerance. However, there are significant barriers to entry when employing a human financial advisor, with many favouring high-value clients with upfront capital to invest. This is because financial advisors have a limited amount of time and want to make the most profit possible through fees.
This is where robo advisors come in. While automated portfolio management software has existed for commercial use since the millennium, the first publicly available robo advisor was developed for retail investors in 2008. Today, investors can use robo advisors with no upfront capital whatsoever and far lower fees than a human advisor. Many of the best brokers with robo advisors allow clients to easily harness the potential for low-cost investment planning help.
Robo advisors are digital platforms that provide automated trading and financial planning services through the use of algorithms.
Often, robo advisors are set up to manage retirement or college tuition funds. After collecting data from clients on their level of investment, chosen risk tolerance, profit targets, and withdrawal dates, a suitable balance of investments is suggested to assist clients to meet their financial goals. This is often between highly dependable major index funds, greater-risk-greater-reward emerging markets, and guaranteed low-return government bonds.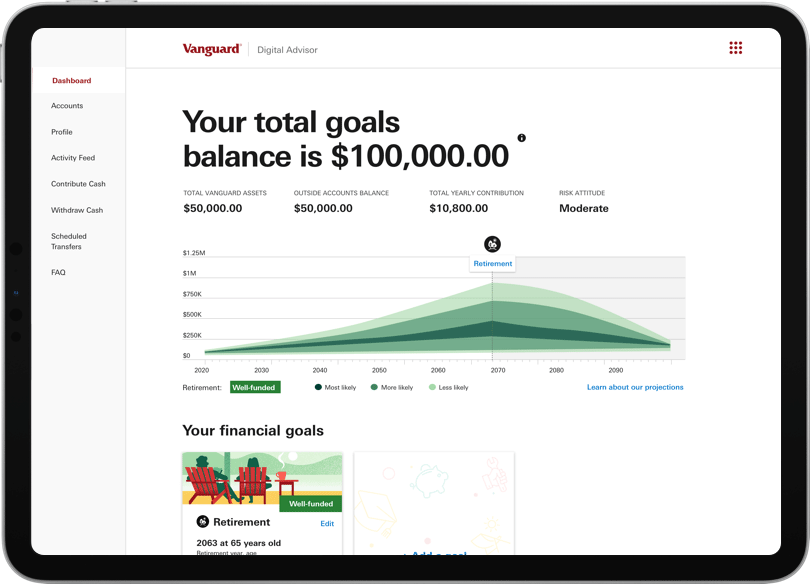 Many robo advisors can be tasked with the full management of an investment portfolio, requiring no external input from investors whatsoever. Robo advisors will adapt to changing market conditions independently by adjusting the balance of a portfolio to reach the preset goals. Alternatively, users can adjust their strategies, changing acceptable risk exposure and moving goal dates closer or farther away.
Popular Robo Advisors
Here are a few of the most popular services and best brokers with robo advisors on the consumer market.
Betterment
Betterment was the first robo advisor to launch for consumer use and has expanded in popularity since its public release in 2010. Betterment manages over $20 billion in cash and assets for its customers, providing both robo and human advisors to its clients. Offering an entry-level and a premium account, Betterment caters to those with both simple and complex needs.
An attractive option for investors and one of the best brokers with robo advisors, Betterment provides valuable features like fractional shares investing and has no minimum account balance.
Vanguard Personal Advisor Services
A well known and experienced broker in the investment world, Vanguard provides the most popular robo advisor service, managing over $170 billion in client assets. Renowned for its low cost and simple to understand ETFs, Vanguard splits clients' investments between four stock and bonds portfolios to meet their individual goals. While there is a $3,000 account minimum for those wishing to leverage Vanguard's robo advisory services, its fees are very competitive.
Wealthfront
Wealthfront is a prominent firm and one of the best brokers with robo advisors, specialising in tax optimisation services to help clients reduce the impact of taxation on their investments. With over $20 billion invested through Wealthfront's robo advisor services, they are an experienced and trusted fund manager. Clients can opt for a wide range of accounts, including retirements funds, joint funds, IRA and ISA savings accounts as well as college and university fee accounts. Offering low fees and direct indexing, a feature where individual shares in an ETF are purchased separately, Wealthfront provides a robo advisor service suited to many investors.
How To Compare Robo Advisors
The aforementioned list is just the tip of the iceberg when considering the best brokers with robo advisors.
We have compiled a list below of the top factors to consider when comparing brokers.
Fees & Management Costs
When deciding from the best brokers with robo trading advisors, the fees that a firm charges to manage your capital, as well as the cost of investing in an individual ETF or commodity, are of great importance.
While many brokerages will boast low annual management fees, it is also worth checking the expense ratios associated with each investment. These may be into ETFs, commodities, bonds or even cryptocurrencies. These fees can soon add up, so make sure brokers' expense ratios are as competitive as their management fees.
Another cost-related aspect to look out for is discounts based on the amount of investment. To incentivise those with higher amounts of capital to invest with them, some brokerages offer scaling fee discounts.
Range Of ETFs & Assets Offered
An area where the best brokers with robo advisors can compete is the range of investment options available. While some brokers, such as Vanguard, keep things simple with assets split between a handful of broad and diversified ETFs, other brokers split into industry-specific ETFs, cryptocurrency funds, international market funds and real estate investment opportunities (REITs).
A broker with a greater range of investment options can allow for more aggressive investment strategies but this can come with added risks. More choice is never a bad thing, especially when setting specific financial goals but this can sometimes come at the cost of higher platform or management fees.
Fractional Shares
Investors that engage in dollar-cost averaging may look to regularly invest smaller amounts rather than infrequent lump sums.
The ability to invest in fractional shares with a broker can be a key feature for those looking to make smaller, incremental investments.
A robo broker that does not support fractional shares will only invest when the minimum amount for one share is deposited. This can potentially lead to a wait of several months without investments, diminishing the power of dollar-cost averaging and depriving your capital of the chance for growth. Fractional shares allow for investments to be made even when the funded amount is less than the cost of one share.
This feature is a distinct advantage for those investing smaller amounts at one time and should be highly valued by such investors.
Personalization & Overridability
While some investors may feel more comfortable letting the robo advisor take complete control over their investment, the capacity to override decisions could be a key factor. Clients who have researched a particular field of investment, such as cryptocurrency or tech stocks, may want to include them in their investment portfolios. Having the ability to personalize your portfolio is a feature that those choosing from the best brokers with robo advisors should consider carefully.
Some brokers offer a feature known as tax-loss harvesting, an investment strategy that can significantly reduce capital gains taxes. In taxable accounts, the practice involves selling losing investments to offset the gains from winners. This involves a process known as direct indexing, in which individual stocks that make up an ETF are purchased separately.
Direct indexing is challenging to manage when trading manually, making this strategy ideal for robo advisors.
Investors who invest in tax-free accounts, such as a 401k retirement fund in the US or ISAs in the UK, need not worry about taxes. However, for investors who can benefit from reduced capital gains tax, this feature is vital.
Minimum Account Balances
Some brokers impose minimum account balances for their robo advisor accounts, requiring investors to deposit a specific amount to create an account. This may not be an issue for clients with significant sums to deposit immediately, but it could be limiting for those who prefer to add money to their accounts gradually.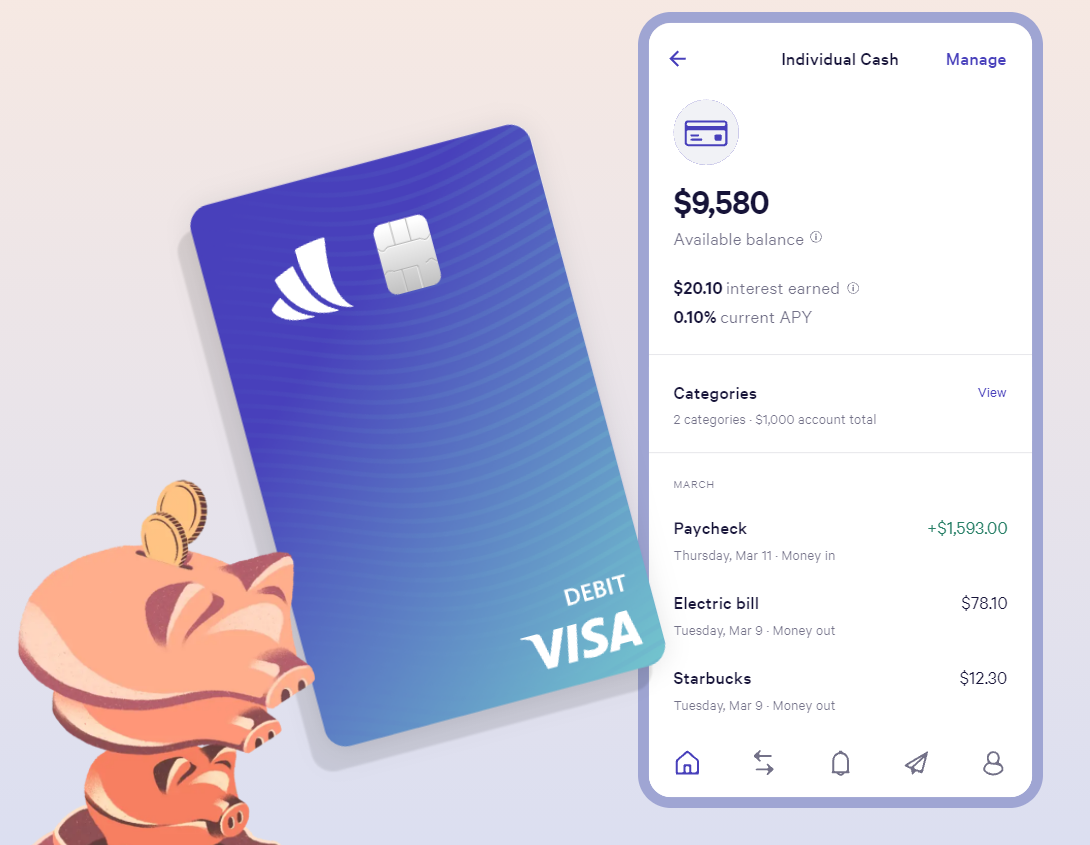 Pros Of Robo Advisors
There are numerous advantages to using the services of the best brokers with robo advisors:
Hands-Off Investing – Robo advisors enable "set it and forget it" investments, allowing clients to establish their accounts with funds and/or regular payments and let the robo advisor take care of the rest. Robo advisors are one of the easiest ways for individuals with little financial market knowledge to invest. Brokers focus on simplicity and usability, making it possible for even someone with limited financial background and minimal investment experience to use a robo advisor and put their money to work.
More Accessible Than Human Advisors – Robo advisors can outperform human advisors for everyday investors for various reasons.
Many traders seeking simple management will be better off with a robo advisor. Robo advisors have no upfront costs and lower fees than human advisors, making them more accessible to large parts of the population. Investments made with a robo advisor can also be tracked at all times via digital platforms, with tweaks to strategy not restricted by office hours or availability.
Straightforward To Set Up And Monitor – Robo brokers reduce the likelihood of new investors feeling overwhelmed and lost. The advisors help guide clients by providing simple quizzes to ascertain clients' preferred level of risk, time frame and capital. Too much choice can often be overwhelming for beginners, with thousands of individual stocks, ETFs, commodities and bonds available for trading. A robo advisor's selection of hand-picked ETFs and assets prevents clients from feeling confounded. The best brokers with Robo advisors provide easy to use platforms with which to track and alter investments. Robo advisor platforms can be accessed at any time so that traders can monitor how their strategy is playing out.
Cons Of Robo Advisors
While the best brokers with robo advisors provide some great benefits, there are also some potential drawbacks:
Client Independence – Robo advisors operate on the presumption that clients have realistic goals and a solid grasp of their financial situation. Without an intermediary on hand to check that clients have a complete picture of their circumstances, the aims and investment amounts that clients choose can lead to unanticipated real-world implications.
Furthermore, it can be easy to crank up the risk solely believing in the power of a robo advisor to beat the market.Without anyone on hand to check potentially reckless investments, clients can make poor choices for their targets and chosen risk levels.
Restrictive Investment Options – In order to reduce complexity for both investors and robo advisor software, even some of the best brokers with robo advisors have few investment funds to choose from.While these funds themselves are often well-diversified, clients that wish to invest in specific fields or assets may be disappointed by some brokers.Some firms may even insist on a minimum allocation of low-yielding bonds within a portfolio.
Limited To A Long-Term Focus – Robo advisors are designed to grow capital over a longer time scale, such as for retirement or a child's college tuition.Robo advisors are not set up to make short-term trading plays.Instead, they work by harnessing the dependable long-term growth of markets like the S&P 500 and the guaranteed returns of government bonds.
No Consideration For Other Assets – An area where a human financial advisor will be hugely beneficial is when managing more than just capital.Managing assets such as land, property and alternate sources of income are beyond the scope of a robo advisor.When deciding what has long term earning or appreciation potential, the help of a human financial expert is needed.
Indeed, while some brokers offer real estate fund investment trusts, the best solution for an individual investor may be to invest in property or other physical assets. Such advice can only come from human financial advisors.
Other Things To Consider
Promotions
To incentivize potential clients to choose their brokerage services, many of the best brokers with robo advisors will offer special offers to new clients. These include a grace period with no fees, discounts on other financial services and waiving of account minimum amounts.
Socially Responsible & Environmentally Friendly Options
For investors that want to use their capital to enact positive change in the world, many brokers offer investment options for socially responsible or environmentally friendly companies. While returns may not match those of other markets, investors know that their money is supporting positive change. With the growing demand for these investment options, it is worth checking if a robo advisor broker offers these opportunities.
External Software Integration
Investors who wish their robo advisor brokerage to seamlessly work with other programs such as cryptocurrency exchanges or taxation software should check whether a broker's platform supports external software. Many investors will see a benefit from tracking multiple investment assets in one place, as well as not needing to manually input tax information into external software.
Final Word On Best Brokers With Robo Advisors
The best brokers with robo advisors can be great tools for investors who wish to set up investments and allow them to be balanced and mature automatically.
They benefit from lower management fees than human advisors and the simplicity to be understood by novices. Robo advisors can be a great long-term, minimal-input investment strategy but investors that want short term returns or greater control over their investments might benefit from looking elsewhere.
When it comes to choosing the best brokers with robo advisors, there are many to choose from. Features such as tax-loss harvesting, support for fractional shares and external software integration will set brokers apart from the rest of the field. Low fees and minimum account balances will also be important aspects to pick out the best brokerage accounts with robo advisors for your needs.
FAQs
Are The Best Brokers With Robo Advisors Good For Beginners?
Robo advisors make long term investing easy for those unfamiliar with the financial markets. Investors need only fill out preferences such as time frame and risk and the system will do the rest. The best brokers with robo advisors will automatically manage investments to give them the best chance of reaching these set goals, taking the need for human interaction out of long-term investments.
What Are The Fees For The Best Brokers With Robo Advisors?
All brokers with robo advisors will offer their services for different fees. It is important to carefully review and compare the fees charged by different brokers to ensure you are getting the best value for your money.
Some charge flat fees but, for most, management fees will tend to be lesss than 0.25% of your portfolio.
On top of management fees, brokers may charge an expense ratio for purchasing individual assets through their platform.
These can range from anywhere between 0.05% up to 1% for actively managed, riskier ETFs.
Can I Day Trade Using One Of The Best Brokers With Robo Advisors?
Robo advisors are designed to manage longer-term investments and, while they will make adjustments to portfolios in response to changing market situations, they will often not engage in short-term strategies such as day trading.
Are Robo Advisors Popular With Investors?
Many investors choose to trust their long term investment strategy to a robo advisor.
Worldwide, over $300 billion is managed by robo advisors, with services offered by some of the most popular brokers like Vanguard, Schwab and Fidelity.
Should I Use One Of The Best Brokers With Robo Advisors?
If you are content to allow your investments to grow independently or do not want the hassle of researching and manually investing in assets for your portfolio, robo advisors are a perfect service.