Popular crypto exchange OKEx has introduced a new enhancement to its trading services that hopes to provide a better, more capital efficient derivatives experience, called the portfolio margin mode. This system is the broker's fourth account mode and is available to high-volume professional and API traders.
Portfolio Margin Mode
The cryptocurrency exchange and broker OKEx, popular for its array of services and assets classes covering spot swaps and derivatives, has launched a new account mode for high-level clients. This portfolio margin mode works by reducing the account margin required for market-making and hedging strategies, lowering the entry barriers for institutional and professional traders on the platform.
"Portfolio margin mode is designed for high-volume professional users, market makers and institutions looking to greatly improve capital efficiency, especially when trading cryptocurrency derivatives… With the release of the new portfolio margin mode on OKEx, the platform is leading the way in the cryptocurrency industry by introducing this powerful tool for capital efficiency enhancement and risk management."
The portfolio margin mode differs from the single and multi-currency margin modes already offered as it calculates its margin based on risk exposure, rather than total position.
This allows clients to greatly reduce their margin when better hedging positions, supporting higher levels of fund utilisation.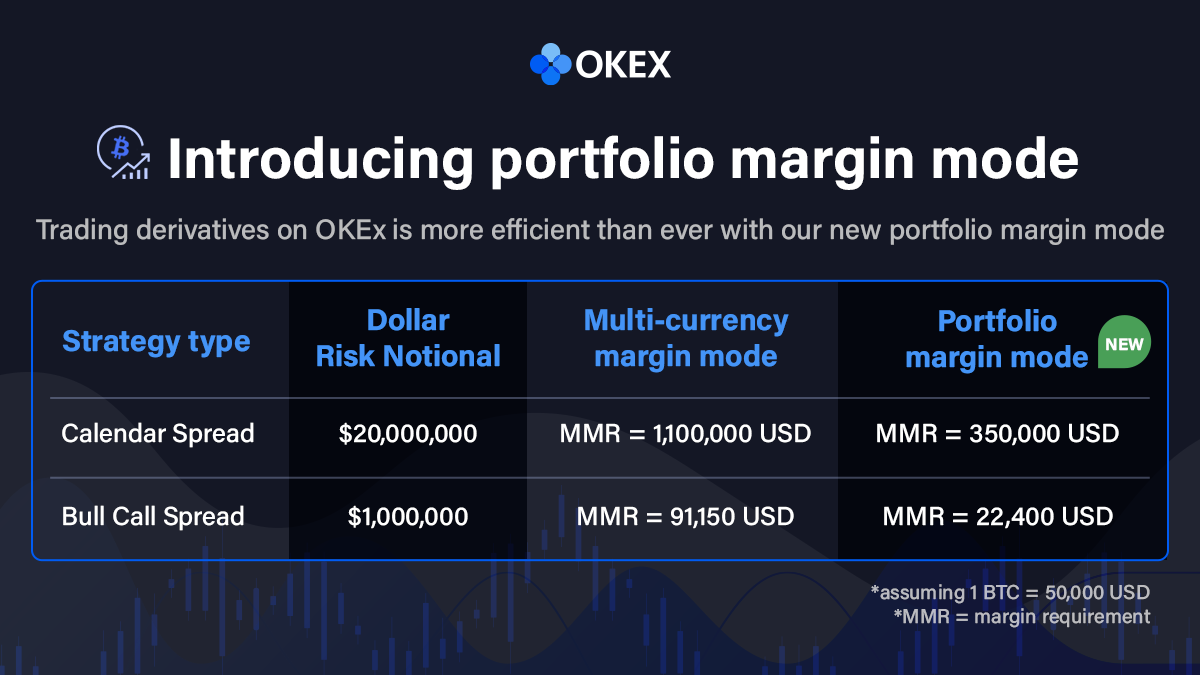 Existing accounts can be upgraded to portfolio margin mode through the settings icon in the top right corner of the trading dashboard under account mode.To qualify users must have $100,000 or more in their OKEx account and the new mode can be accessed both through the web trading app or the exchange's API.
SPAN
The OKEx portfolio margin demonstrates a marked resemblance to a similar risk management system called SPAN, which stands for standardised portfolio analysis of risk.This was developed for participants of CME Group, the world's largest derivatives exchange for traditional finance.By introducing this new account mode, OKEx is spearheading advancements in capital efficiency and risk management in the DeFi world.
While some other exchanges have some form of similar systems in place, OKEx's version allows clients to open concurrent derivatives positions over several currencies with drastically reduced margin requirements.
About OKEx
Founded in 2017, OKEx is an established decentralised cryptocurrency exchange (DEX) offering futures, perpetual swaps, options and spot trading across more than 400 digital tokens, including a wide range of meme currencies.